Jason Stuart reacts to director's controversial advice that gay actors stay in the closet
Before last night's Outfest screening of Make the Yuletide Gay began, out actor Jason Stuart spoke to the sellout crowd at the Fairfax Theatre about his work as national chair of the Screen Actors Guild LGBT committee.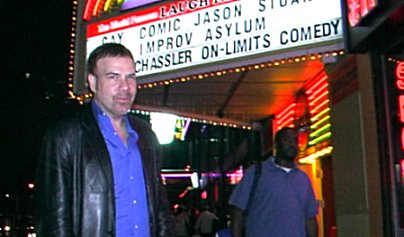 So after the movie was over, I caught up with Jason to get his thoughts on remarks made by out director Todd Holland (Malcolm in the Middle, The Larry Sanders Show, Miss Guided) who caused quite a stir when he said that if an actor wants to succeed in Hollywood, he needs to stay in the closet.
"His husband, the guy who he's married to (Scotch Ellis Loring), is an openly gay actor," Jason pointed out. "I don't know what the context of what he was saying was but I think he was probably trying to protect people and I don't think we need protecting anymore."
Jason has been openly gay forever and plugging away for years doing stand-up, TV guest spots and movie roles and is now busier than he's ever been.
"I think that sometimes it is rough out there but for me, my whole life has changed. In the last month, I guest starred on The Closer, I'm doing It's Always Sunny in Philadelphia and I played a cop this year in a thriller with Catherine Hicks. You work hard, you keep showing up. You get parts in independent films, you put them on your web site and show them to people and you say, 'Look, I can play that' and they let you do it."
"I think young girls today don't care if a guy is gay in a movie," Jason added. "They're going to run to see it because they think it's hot."