Journalist and Morning Man alum Steve Kornacki comes out in a deeply personal Salon column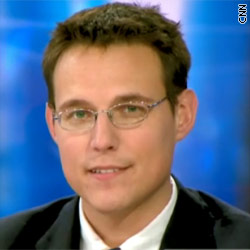 When I selected Steve Kornacki as a Morning Man last December, I had no idea if he was gay or straight. He got my attention by being so handsome for one thing, but also for being so articulate and insightful during his appearances on CNN's Anderson Cooper 360.
Now Kornacki, news editor at Salon.com. has come out in a deeply personal column that takes you into the compartmentalized world that a lot of men feel they must live in in order to have the life they want.
We also learn of the romantic price he had to pay before finally deciding to come out to everyone at the age of 32.
Here is an excerpt:
You may be wondering why I was so afraid. It's 2011, after all, and I live in Manhattan, surrounded in social and professional settings by gay people. It's not like I come from a morally judgmental family; I never feared my parents or other relatives turning their backs on me. But 17 years of fear and hang-ups can be hard for a person to shake.
My friends were confused about me, but I'd throw them off my trail by embracing the persona of a cynical, slightly neurotic fatalist. My buddies would urge me to approach an attractive girl at a bar, and I'd tell them it wouldn't be worth it – not when I was liable to wake up with a sexually transmitted disease. Friends would try to set me up with girls and I'd remind them that most marriages quickly devolve into loveless, soul-crushing arrangements. They didn't think I was interested in any kind of relationship – straight or gay.
In a way, I can't even explain why I kept this part of myself private for so long. But whenever I would contemplate a change, I would think back to my youth, and the fathers, teachers and coaches who had been my adult role models, all of them old-fashioned family men. How could I possibly be so different?
Here is a LINK to the entire column. I congratulate Steve and applaud him  for being so candid.