Will the commercial for Mancrunch gay dating site make the Super Bowl telecast?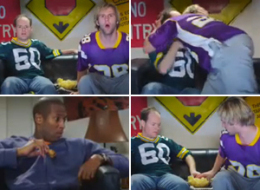 Ah, who the heck cares! All of the publicity Mancrunch.com has gotten over CBS simply considering their commercial during next month's Super Bowl has been a real free publicity windfall.
I had never heard of the site before and now, not only am I aware of it, I may sign up for it!
I'd like to get on a soap box right now and write about why CBS should air the ad – especially since they are airing an anti-abortion ad during the Super Bowl and in doing so, are showing that they are ready and willing to push the envelope. But with all that's going on in the world, I just don't have the energy to take on all the hate and bigotry so that's all I'm going to say and also post the ad so you can enjoy it.