"Will & Grace" Wednesday: When Neil Patrick Harris guest-starred as an "ex-gay" guy who Jack likes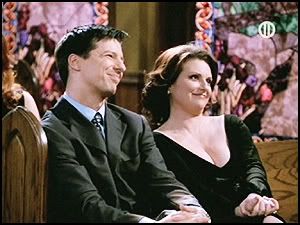 He's a two-time Emmy winner now and a soon-to-be daddy of two so why not have Neil Patrick Harris guest star on Will & Grace Wednesdays again?
After he was Doogie Howser MD and before he was Barney Stinson on How I Met Your Mother, NPH did a memorable guest shot on Will & Grace.
(BTW, the year was 2000 and Neil was appearing on NBC in the sitcom Stark Raving Mad with Tony Shaloub and created by Steve Levitan who went on to create Modern Family.)
Anyway, in this hilarious Will & Grace send-up of the Focus on the Family and ex-gay movement, NHP plays an "ex-gay" guy who Jack is attracted to.
Jack pretends to be an ex-gay and goes to a meeting. Watch and see if NPH is able to resist his charms. Jack also brings along Karen who is acting very bisexual in this episode.
Funny stuff!