When Sean Maher and John Stamos were a loving gay couple … in the TV flick "Wedding Wars"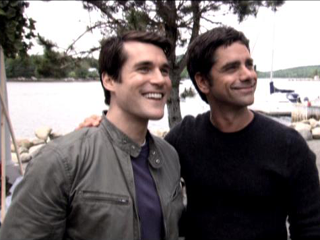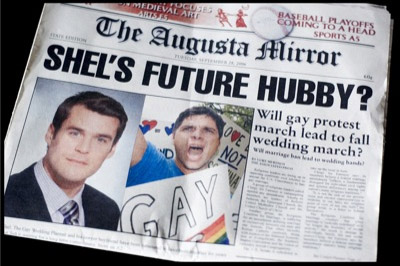 Could there BE a more striking couple than Sean Maher and John Stamos?
Not only did they play a couple in the 2006 film Wedding Wars, they also shared a few on-screen kisses. They weren't all that steamy but there was still some nice lip on lip action.
Throw in the McSteamy Eric Dane as Stamos's brother and the movie was a very handsome production. I remember attending the premiere at the ArcLight in Hollywood and chatting up Stamos but don't remember seeing Maher who made some very big news this week when he came out publicly in an interview with Entertainment Weekly.
Actually playing a gay character was a scary position for a gay actor who at that time was attempting to appear straight.
"This was where it's still kind of tricky," Maher remembers of the Wedding Wars time period. "We decided to do no press for it because I wasn't ready to answer the question. Neil and Craig knew, so we just decided, okay, I was a supporting character anyway. The press was going to fall on [star] John Stamos anyway."