Wednesday Briefs: Ellen does Letterman Top 10; Barbara Walters talks "The View" and Rosie; NFL TV host to apologize for anti-gay comments
Ellen DeGeneres dropped by The Late Show With David Letterman last night to deliver a top 10 list about "Things that have been on my mind."
The funniest one was number 8: "For the last time, I'm not Jane Lynch, I'm the other one."
Also funny was number 6:  "I never should've let Paris Hilton hold my purse."
And the number one thing on the mind of the woman married to Portia de Rossi comes as no surprise: "Man, my wife's hot."
HER VIEW: Barbara Walters talked to USA Today about her return to The View after heart surgery ("I feel great! There's nothing I can't do.") and about how the show has survived and thrived for 14 seasons.
"I never thought we'd go for more than one year," she said. "I spent most of the first year calling affiliates and nagging them [to air the show]. I think they said, 'Oh God, it's her again."
The show got some of its highest ratings and biggest buzz during the year that Rosie O'Donnell was on board as a co-host.
"Rosie was a difficult period," Barbara said. "There was a time under Rosie when people would tune in to see the anger. That's not true now. They want to hear the arguments."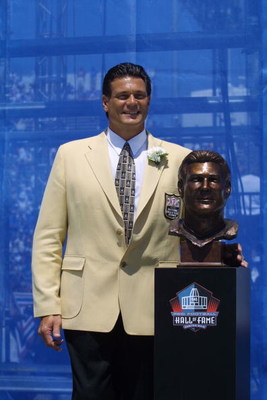 BONEHEAD: Sorry for the name calling. It is not my usual style. I'm just feeling frustrated with people like Dan Hampton, NFL Hall of Famer and a co-host of the TV show Pro Football Weekly, who in this day and age still don't know what is innappropriate.
During a discussion about the NFC East, Hampton predicted that the Dallas Cowboys would be unable to win the division because they "think they are Clint Eastwood; they're more of the Brokeback variety if you know what I'm talking about."
Are you KIDDING ME?
There's gotta be gay players on the field right now and they sure as heck can't come out because of attitudes like this. And there are gay kids on the playground or in junior high or high school or college who are gay and are capable of playing great football. There's nothing stopping them.
Additionally, this Hampton dude was talking about the season-opening game between the Minnesota Vikings and the New Orleans Saints and said the Vikings need to go into New Orleans and "hit the town like Katrina."
Of course he publicly apologized for the Katrina gaffe, but has not yet addressed the Brokeback comment. Pro Football Weekly publisher Hub Arkush told GLAAD that Hampton will be leading this weekend's show with an on-air apology for both statements. Arkush said "it shouldn't have happened" and assured GLAAD that similar incidents will not happen again.
Obviously he's only apologizing to keep his job. Let's hope he really thinks about what he said and learns from it. But if he can get this far in life and still be so thoughtless, I do not have high hopes.