Wanda Sykes welcomes twins!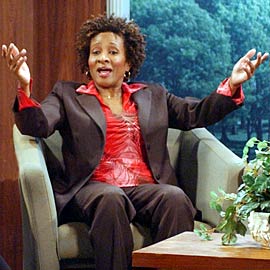 Wow! This is wonderful news: Wanda Sykes and her wife, Alex, became parents of twins – and boy and a girl – on April 27. Wanda performed at the White House Correspondents dinner on Saturday and I have to say, I did wonder when she said during a joke about former VP Dick Cheney: "Oh my God he's a scary man,. Scares me to death.I tell my kids, 'Look, two cars pull up and one car has a stranger and the other has Dick Cheney, you get in the car with the stranger!"
That was a big clue!!!
Anyway, it's all out now and no doubt Wanda wanted to do her big appearance that was so edgy it's still being talked about on various shows. People.com reports that daughter Olivia Lou weighed in at 6 lbs., 7 oz., and was 19-inches long. Son Lucas Claude debuted at 7 lbs., 9 oz., and was 20-inches long.
Alex, who Wanda married last Oct. 25, gave birth to the babies, the couple's first children.
"All are happy and healthy and at home," says Sykes's rep Danica Smith.
EARLIER POST: Wanda Sykes chats with Greg In Hollywood: "I still feel like me, maybe a little more free, a little more liberated"