Video: See sexy Jake Pavelka perform in his tighty whities in "Dancing With the Stars"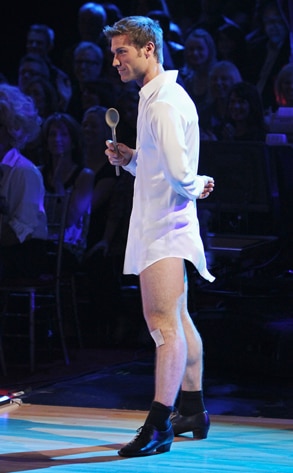 Reigning Bachelor Jake Pavelka channeled Tom Cruise in Risky Business on last night's Dancing With the Stars by stripping down to his skivvies.
And whaddaya know? He and partner Chelsie Hightower ended up in the top 3 for the first time!
The Bachelor certainly has my vote with those great legs!
"You leave it all on the dance floor, and there's some skin out there, I think," Jake said afterward.  "Once in a lifetime opportunity! And my knees will heal."
Compared to the lack of effort from the hapless Kate Gosselin (she MUST be voted off this week!), Jake does give 100 percent each week so good for him!
But for some reason, the performance did not go over well with competitor Maksim Chmerkovskiy: "He's desperate…with his pants off," he told E!  "I don't blame him. You're in the bottom two, you wanted the numbers, there's nothing to lose, so he just took his pants off."