Tuesday Morning Man: Fred Palascak!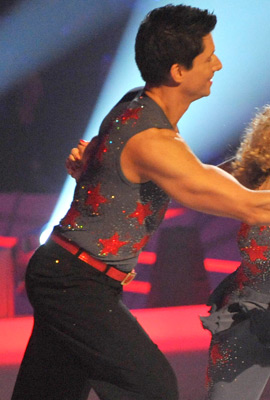 There are those who say the real highlight of ABC's Skating With the Stars are Fred Palascak's biceps.
Well, who am I to disagree!
I did catch the final 20 minutes of the show last night after seeing Burlesque (review to come later today!) and it was just in time to see ice skating pro Fred perform with his partner on the show, All My Children star Rebecca Budig.
I thought they were terrific and their scores were high except for one judge, Johnny Weir, who really went after Rebecca for not acting vampy enough in the routine to Whatever Lola Wants from Damn Yankees.
Anyway, back to Fred.
He's an Ohio native who competed in his first U.S. National Figure Skating Championship at the age of 15. At the U.S. Eastern Sectional Championships in 1993, Fred's fourth place finish allowed him to qualify for the U.S .Nationals. That's where he met his wife/skating partner, Melanie Lambert. Fred and Melanie began skating together in 1994 and married in 2003.
In their first event competing as a team, the U.S. Eastern Sectionals (the qualifying event for the U.S. National Championships), Fred and Melanie blew away their competition and won Gold.