Tuesday Briefs: Preview of tonight's Britney-inspired Glee; Margaret Cho gets a 6-6-6; New Betty Buckley album!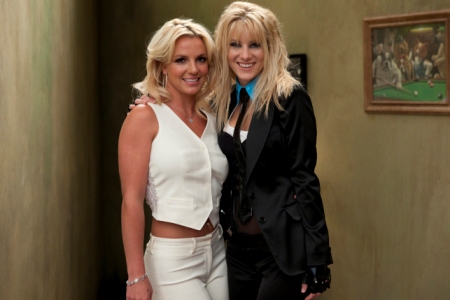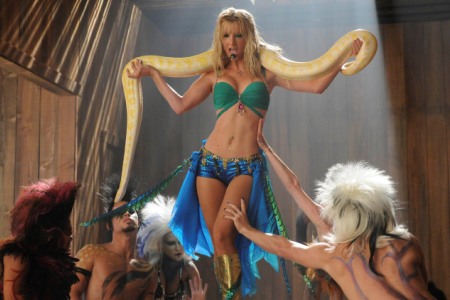 It's so great to have new episodes of Glee airing again. Tonight, the second episode of the second season, has already been one of the most buzzed about: the Britney Spears episode!
MTV News offers up this preview: It appears Brittany (Heather Morris) and Santana (Naya Rivera) hit up their local dentist, played by John Stamos, to get their hands on some anesthesia. From there, the girls go on a trippy ride through Brit's catalog, with some appearances by the pop princess herself. Show creator Ryan Murphy has called the episode "hallucinogenic."
The cast will be doing six of Britney's biggest hits all while resurrecting her most iconic costumes, including the Oops, I Did It Again red-leather bodysuit; the bejeweled (and nearly naked) Toxic look; the I'm a Slave 4 U green bikini, complete with snake; Madonna and Brit's  Me Against the Music menswear-inspired suits; the (Baby) One More Time schoolgirl uniform; and, finally, a stirring rendition of Stronger.
Glee airs tonight on Fox at 8 p.m.!
DANCING HER HEART OUT: I felt for Margaret Cho last night on Dancing With the Stars. She gave it her all and the judges still gave her a hard time with scores of 6-6-6.
I thought she was wonderful.
Margaret and her partner, Louis van Amstel, danced a jive very well. But the judges, who clearly have their favorites, felt her kicks needed to be more accentuated, her shoulders back, and her facial expression not so intense.
"That's just my FACE!" Margaret explained to them.
I love seeing Margaret's pre-dance interviews. She said that after the judges were so hard on her last week, "People would not look at me, because I had like this weird, 'loser energy.' Like, after they would talk to me, they would use hand sanitizer. It was like they were trying to get the loser off…. It's actually amazing to discover, you know, this whole thing — that I'm actually a dancer."
Margaret fared better than poor Michael Bolton who actually was pretty bad. He got a total of 12 points to Margaret's 18.
Bristol Palin has enchanted the judges. I think her face is a blank and having her mother, Sarah Palin, in the audience did nothing to enhance my enjoyment levels.
Florence Henderson is more than holding her own. Love her! Jennifer Grey has been sensational, Rick Fox is sexy, and I love the can-do spirit of The Situation even if the judges seem to be out to get him.
NEW ALBUM: This is very welcome news: the great star Betty Buckley is releasing a new album, Bootleg-Board Mixes from the Road, on Oct. 16, Broadway World reports.
I don't have a song list yet but no doubt this will be a gem as is everything she does.
A Tony winner for Cats, Betty received her second Tony Award nomination for Best Actress in a musical for her performance as Hesione in Triumph of Love, and an Olivier Award nomination for her interpretation of Norma Desmond in the London production of Sunset Boulevard, which she repeated to more rave reviews on Broadway.