Thom Bierdz set to return to Y&R?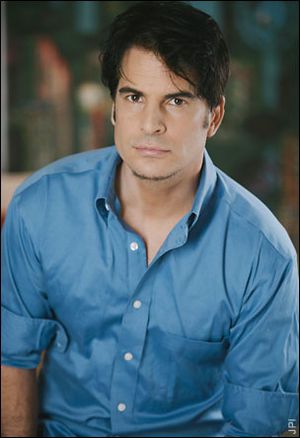 That's the word I got from The Young and the Restless Executive Producer Paul Rauch when we chatted at the Daytime Emmys.
I mentioned to Paul disappointing the show's gay storylines had been including the Adam-Rafe fling last summer and, most of all, the departure of Thom Bierdz last fall just six months after his return as the now-gay Phillip Chancellor III.
"Maybe you should keep looking at the show … July might be a good time," Paul said. "We won't disappoint you."
Paul would not say whether this was a brief return or a long-term thing so we'll just have to wait and see. It will be great to see Thom, who had returned to the show after a 20-year hiatus from acting, on screen again.
Actor John Driscoll, who plays Phillip Chancellor IV, said he was not aware of Thom's return but would welcome it.
"He's a beautiful person besides being a great actor," John said of Thom who is a respected artist and author and suffered through several family tragedies including his brother murdering their mother and another brother committing suicide.
Said John: "His story is a very tough one but he pulled through and he embraced what he had to do – he is a fabulous artist and he's just a great person. It was an honor to work with him."
When Thom played Phillip in the 80s, the character was not known to be gay and was presumed to have been killed in a car crash. Thom, who came out publicly as a gay man several years later, agreed to come back to Y&R with Phillip – obviously alive – being gay and having left Genoa City so he could live his life freely elsewhere.
When he returned last summer, the character explained his absence to family members, including his son and the mother of his child, Nina (Tricia Cast, pictured above with Thom and John).
"The storyline was interesting because most of the time, it's the son coming out to the father and in this case, it was the father coming out to the son," Driscoll said. "He and I worked hard together and I thought it came out beautifully. We've kept in touch via email so it would be great to have him back. I'm always the last person to find out anything so thank you for having this conversation! My father's coming back. I'm happy to hear that."