The legendary Carol Burnett will appear at next month's LA Gay and Lesbian Center Anniversary Gala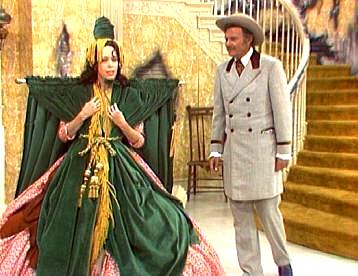 How cool is this?
The great Carol Burnett, who will be playing Sue Sylvester's mom on an episode of Glee this season, is going to appear at the LA Gay and Lesbian Center's Anniversary Gala alongside fellow comedy geniuses Jane Lynch (honoree) and Lily Tomlin (host). Matthew Morrison of Glee has also been announced as a presenter.
Wow! This could be even better than a few years back when Shirley MacLaine showed up to honor Jenifer Lewis!
I grew up watching The Carol Burnett Show and her characters of Eunice and Miss Wiggins are classics as are her spoofs of classic movies – especially her take on Scarlett Ohara in Gone With the Wind and Norma Desmond in Sunset Boulevard.
Of course she was also brilliant as Miss Hannigan in Annie, a hoot as Helen Hunt's mother on Mad About You, and has done stunning dramatic turns in such films as Friendly Fire and Pete & Tillie and in an episode of Law & Order: SVU last year.
I read Miss Burnett's second memoir, I'm So Glad We Had This Time Together, over the summer and it was a nice read filled with anecdotes both funny and sad.
The L.A. Gay & Lesbian Center's 39th Anniversary Gala & Auction will be held on Saturday, Nov. 13 at the Hyatt Regency Century Plaza Hotel.  The gala is an occasion to recognize both individuals and organizations making a difference in the fight for LGBT equality.
For gala tickets, or for more information about the raffle, go to www.anniversarygala.org.
Earlier post: Jane Lynch to be honored at L.A. Gay & Lesbian Center Gala