The fight is on to save Kish!
It's just astounding that ABC is kicking One Life to Live's Kish storyline to the curb. In his weekly Gays of Our Lives column, Anthony Langford has shed some light on what led to the shocking decision to completely do away with the soap's two main gay characters played by Scott Evans and Brett Claywell:
Sources say that despite the couple's growing fanbase and critical acclaim, they hadn't been a hit with mainstream audiences and the ratings told the story, with a downturn during key moments in the Kyle and Oliver saga, most notably during the highly publicized same sex wedding arc from last November, a plot that was cut short following a number of angry phone calls and letters from offended viewers.
The show followed that with a gay bashing plot that, again, didn't go over well with the audience and, as with the gay wedding storyline, ABC ordered the story cut short. Concerns began to grow about what to do with the couple. Kyle and Oliver and their romance had been well received and even tested positively among focus groups. It was the stories they were involved in that were the problem.
Initially the plan was to keep Kyle and Oliver, but bring an end to the heavy gay-themed stories and put them in more traditional soap opera plots. With the show struggling for its very survival and already planning to cut the budget and weed out the bloated cast, executive producer Frank Valentini reportedly made the very difficult decision to end their story.
Head Writer Ron Carlivati was said to be 'devastated' by the decision and buzz is that he is currently lobbying to get his bosses to change their minds. Meanwhile, fans reacted swiftly, with angry letters and phone calls to the network and several campaigns underway to get ABC to reconsider. Prominent soap bloggers such as Nelson Branco, Damon Jacobs and Jamey Giddens have used their websites to express opinions and encourage fans not to give up the good fight.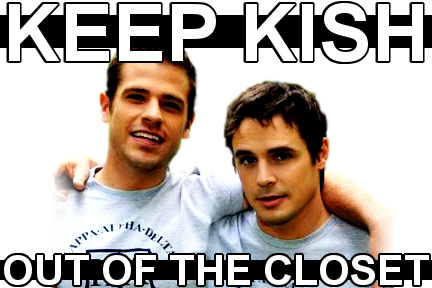 There is a rally planned for Friday at Times Square. If you want to register your feelings to ABC. the site Keep Kish out of the Closet has links that makes it very easy for you to do so via email, telephone, snail mail and a petition. I'm going to send them an email right now myself and suggest you do the same!