"Sex and the City" Saturday: When Sarah Jessica Parker finally won the elusive Emmy Award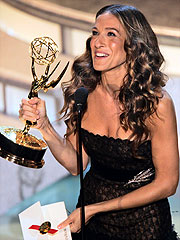 In honor of Sunday's Emmy Awards, here is a flashback to the 2005 ceremony.
After five consecutive losses (how could that BE?), Sarah Jessica Parker finally won the Emmy for Outstanding Lead Actress in a Comedy Series in 2005 for the final season of Sex and the City. (Cynthia Nixon had won for the first time earlier in the evening in the supporting actress category).
She was clearly moved and said in her speech: "This is great punctuation for the end of a long sentence – a really good sentence. It really was worth the wait and a glorious finish to what was the journey of a lifetime."
She was going really well, very thoughtfully, until the damned countdown began then she started panicking and thanking lawyers and publicists. But she did not forget to thank the post 9/11 New York City.