Saturday Afternoon Man: Stanley Tucci!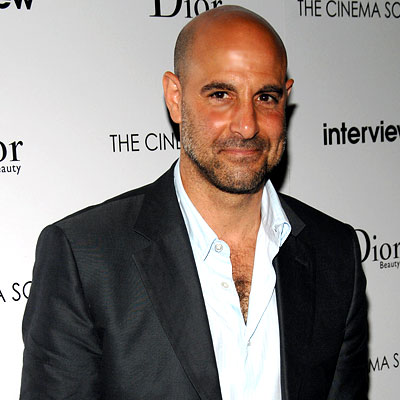 Am in Palm Springs for a little getaway but will be posting regularly!
A reader suggested Stanley Tucci, currently starring with Cher and Christina Aguilera in Burlesque, for Morning Man. It's already afternoon but I think it's an excellent idea!
Not only is he most handsome, he's a brilliant actor who I loved most opposite Meryl Streep in two very different kinds of movies and roles: The Devil Wears Prada and Julie & Julia.
The actor, who turned 50 this month, made his film debut in 1985′s Prizzi's Honor and has gone on to appear in such films as The Pelican Brief, Road to Perdition, Kiss of Death, and Big Night.
He was nominated for an Academy Award for his performance in last year's The Lovely Bones and won the Emmy for outstanding guest actor in a comedy series for Monk. Tucci is a two-time Golden Globe winner for the HBO films Winchell and Conspiracy and was nominated for a Tony Award for his performance in the play Frankie and Johnny in Clair de Lune.