Ricky Gervais makes thinly-veiled Jodie Foster lesbian joke during Golden Globes monologue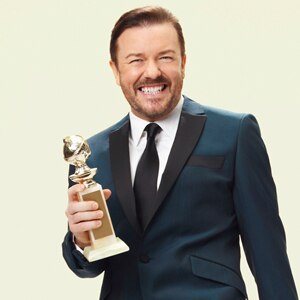 So Jodie Foster gets nominated for a Golden Globe Award for Carnage and shows up for the ceremony at The Beverly Hilton with her two young sons.
Host Ricky Gervais, who offended just about the entire ballroom last year, takes the stage and inexplicably draws Foster into thick of it in the first 60 seconds: "I musn't mention Mel Gibson this year. Not his private life, his politics, his recent films, and especially not Jodie Foster's "Beaver." I haven't seen it myself. I've spoken to a lot of guys who haven't seen it either. But doesn't mean it's not any good."
I thought it was the most horrendous moment of the evening.
Foster is as out or in as she wants to be. That's her right. But why should she, or anyone, be put in that position – camera in their face – in front of an international audience?
I hope the Hollywood Foreign Press has gotten this whole Gervais thing out of their system and gets a new host or just goes back when there was no host.
He adds absolutely nothing meaningful to the evening.