Remember Blair's cousin Geri from "The Facts of Life"? Well, her name is Geri Jewell and she's a lesbian!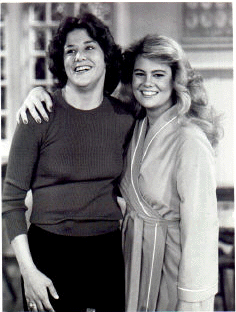 You take the good, you take the bad, you take them both and there you have The Facts of Life, The Facts of Life.
Didn't I ever mention to you guys that I am a The Facts of Life fanatic? Well, it's out there now! I love Blair, Jo, Tootie, Natalie and Mrs. Garrett and I still loved it when Cloris Leachman took over in  later seasons as Mrs. Garrett's sister, Beverly Ann.
And I loved Blair's cousin Geri who popped in from time to time and was the first recurring character on network television, that I can recall anyway, with cerebral palsy.
Geri, played by Geri Jewell, was always open and humorous about her condition and no doubt helped remove any stigma. Now we are learning, through a new book by Geri, that she is a lesbian!
I love her even more now!
The Jezebel site reports that the book,  I'm Walking as Straight as I Can, refers to both Jeri's cerebral palsy and the fear of revealing her "true sexual identity." The book's subtitle is: Transcending Disability in Hollywood and Beyond.
Here is how the book is described on Amazon.com: this autobiography offers a true glimpse beyond the one-dimensional, hero image often associated with actress Geri Jewell. Born with cerebral palsy, Jewell made history when she became the first person with a disability cast in a recurring role on American television in The Facts of Life, and in the years that followed she experienced a string of other successes, including a performance at the White House in 1985 and a role on HBO's Deadwood series. Along with Jewell's accomplishments, this personal story also depicts some of the less-than-rosy events that happened behind closed doors during her initial climb to fame—among them, her release from The Facts of Life, her manager's embezzlement of the money she made on the show, and her struggle with chronic pain, despair, and a fear of revealing her true sexual identity. Told with grace and humor, this inspirational narrative presents an honest portrayal of a woman who refused to give up when others kept knocking her down.