Reaction as Kris Allen wins over Adam Lambert and is crowned the latest "American Idol"
Why does the American Idol vote sort of feel like the 2004 electi0n? Obviously the stakes were not the same but the feeling of a clearly divided country is.
Adam Lambert, the front-runner all season and expected to win from the start, lost to surprise finalist Kris Allen. Judges – including the influential Simon Cowell, gave Adam far higher marks during Tuesday's finale.
So people are wondering, is this result because Adam is gay and Kris is a Christian?
There's no way of knowing for sure. But there were 100 million votes cast – more than double last year's total. How much of it was anti-Adam?
It's a big break for Kris and just a temporary setback for Adam who will certainly follow in the footsteps of other successful Idol non-winners including Jennifer Hudson, Clay Aiken and Chris Daughtry. It is less certain if Kris will follow Kelly Clarkson and Carrie Underwood's superstar path or fade away like Taylor Hicks and Ruben Stoddard.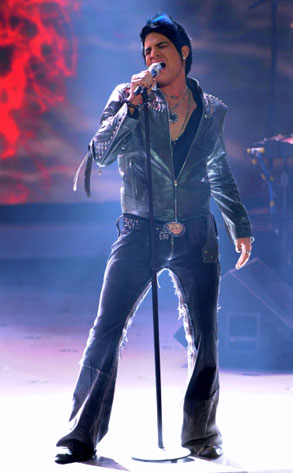 The emotions are quite raw on Facebook and Twitter. A sampling that I found in the hour or so after the show aired on the West Coast:
popbytes

i can't help but feel that homophobia played a part in tonight's #americanidol with kris allen winning – adam lambert should have won
Nick Adams Call the police! Adam Lambert got Robbed!
Jason Boegh It's an upset and you bet I'm UPSET!!! America you suck!
Neil Giuliano Too bad for Adam, but not surprising. Idol is the same as real politics/campaigns when there's more than two in the election: to win you need a strong base of support, but more importantly you must be all the other voters' second choice– and Adam wasn't. Danny's voters were always going to align more with Kris' style. Kris will be fine as the Idol, Adam will become the big superstar. Congrats to them both~~
Allan Brocka American Idol was like watching Prop 8 win all over again.
Del Shores I just wanted to tell all of you that "played" Idol with me, I LOVED IT! I think Kris is adorable and "most improved" and I still think Adam is the best vocalist on the show since Jennifer Hudson. And I love Kelly, Fantasia and Carrie! Here's wishing both of them success and may they both have Carrie's gratitude.