President Obama at LGBT White House reception: "I know that many don't believe that progress has come fast enough, and I understand that."
I am sure there are going to be many different opinions about the speech President Barack Obama gave earlier today at a White House reception marking the 40th anniversary of the Stonewall rebellion, an event which comes at a time when many are frustrated with the president for what is seen as a lack of action on key LGBT issues.
Among those in attendance was Air Force Lt. Col. Victor Fehrenbach who is facing expulsion proceedings after someone informed his superiors that he is gay. Fehrenbach, one of the higher-profile cases under Don't Ask, Don't Tell, attended the reception as a guest of the Servicemembers Legal Defense Network.
The New York Times reports that Col. Fehrenbach said he introduced himself to Obama after the president spoke.
"I explained that I'm being thrown out as we speak, and that there was a sense of urgency for me," Fehrenbach (pictured, left) told the paper. "He looked me in the eye and he said, 'We're going to get this done.' "
My basic feeling, always, is that actions speak louder than words and so far, we have mostly just words. Here are some excerpts fron his 20-minute speech in front of about 250 people and you can decide for yourself:
It's good to see so many friends and familiar faces, and I deeply appreciate the support I've received from so many of you.  Michelle appreciates it and I want you to know that you have our support, as well.  (Applause.)  And you have my thanks for the work you do every day in pursuit of equality on behalf of the millions of people in this country who work hard and care about their communities — and who are gay, lesbian, bisexual, or transgender.  (Applause.)
Now this struggle, I don't need to tell you, is incredibly difficult, although I think it's important to consider the extraordinary progress that we have made.  There are unjust laws to overturn and unfair practices to stop.  And though we've made progress, there are still fellow citizens, perhaps neighbors or even family members and loved ones, who still hold fast to worn arguments and old attitudes; who fail to see your families like their families; and who would deny you the rights that most Americans take for granted.  And I know this is painful and I know it can be heartbreaking.And yet all of you continue, leading by the force of the arguments you make but also by the power of the example that you set in your own lives — as parents and friends, as PTA members and leaders in the community.  And that's important, and I'm glad that so many LGBT families could join us today.  (Applause.)  For we know that progress depends not only on changing laws but also changing hearts.  And that real, transformative change never begins in Washington.

And I know that many in this room don't believe that progress has come fast enough, and I understand that.  It's not for me to tell you to be patient, any more than it was for others to counsel patience to African Americans who were petitioning for equal rights a half century ago.
But I say this:  We have made progress and we will make more.  And I want you to know that I expect and hope to be judged not by words, not by promises I've made, but by the promises that my administration keeps.  And by the time you receive — (applause.)  We've been in office six months now.  I suspect that by the time this administration is over, I think you guys will have pretty good feelings about the Obama administration.  (Applause.)
Obama then got down to the issues we care about and where he's at with them:

I've called on Congress to repeal the so-called Defense of Marriage Act to help end discrimination — (applause) — to help end discrimination against same-sex couples in this country.  Now, I want to add we have a duty to uphold existing law, but I believe we must do so in a way that does not exacerbate old divides.  And fulfilling this duty in upholding the law in no way lessens my commitment to reversing this law.  I've made that clear.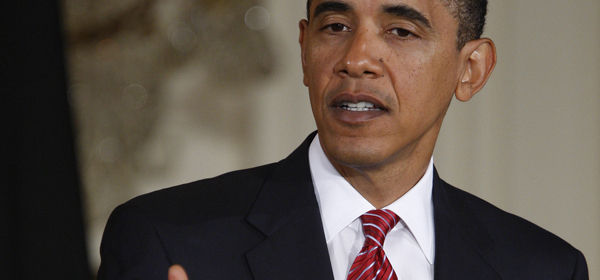 I'm also urging Congress to pass the Domestic Partners Benefits and Obligations Act, which will guarantee the full range of benefits, including health care, to LGBT couples and their children.  (Applause.)  My administration is also working hard to pass an employee non-discrimination bill and hate crimes bill, and we're making progress on both fronts.  (Applause.)  Judy and Dennis Shepard, as well as their son Logan, are here today.  I met with Judy in the Oval Office in May — (applause) — and I assured her and I assured all of you that we are going to pass an inclusive hate crimes bill into law, a bill named for their son Matthew.  (Applause.)
In addition, my administration is committed to rescinding the discriminatory ban on entry to the United States based on HIV status. (Applause.)  The Office of Management and Budget just concluded a review of a proposal to repeal this entry ban, which is a first and very big step towards ending this policy.  And we all know that HIV/AIDS continues to be a public health threat in many communities, including right here in the District of Columbia.  And that's why this past Saturday, on National HIV Testing Day, I was proud once again to encourage all Americans to know their status and get tested the way Michelle and I know our status and got tested.  (Applause.)
And finally, I want to say a word about "don't ask, don't tell." As I said before — I'll say it again — I believe "don't ask, don't tell" doesn't contribute to our national security.  (Applause.)  In fact, I believe preventing patriotic Americans from serving their country weakens our national security.  (Applause.)
Now, my administration is already working with the Pentagon and members of the House and the Senate on how we'll go about ending this policy, which will require an act of Congress.
Someday, I'm confident, we'll look back at this transition and ask why it generated such angst, but as Commander-in-Chief, in a time of war, I do have a responsibility to see that this change is administered in a practical way and a way that takes over the long term.  That's why I've asked the Secretary of Defense and the Chairman of the Joint Chiefs of Staff to develop a plan for how to thoroughly implement a repeal.
I know that every day that passes without a resolution is a deep disappointment to those men and women who continue to be discharged under this policy — patriots who often possess critical language skills and years of training and who've served this country well.  But what I hope is that these cases underscore the urgency of reversing this policy not just because it's the right thing to do, but because it is essential for our national security.
Here are links to other coverage: Advocate.com, Towleroad, Queerty, New York Times, Los Angeles Times,

Here is video of the president's speech: