Portia de Rossi's anorexia nightmare is People cover story: 'I Don't Want to Have Any More Secrets'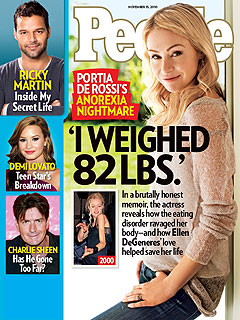 Portia de Rossi's
new book,
Unbearable Lightness: A Story of Loss and Gain
, is getting all kinds of coverage and I'm happy to see such an articulate out woman on Oprah for the hour and now on the cover of
People
.
(It's a bit of a pity that Portia's book is out the same week as
Ricky Martin's
since it relegated him to a cover photo in the upper corner of
People
. But hey! They are both great stories and great stars who are at a place where they can really speak their truth and be so thoughtful and articulate about their journeys).
I had no idea how bad Portia's anorexia was (she was at one point at 82 pounds and got quite ill). She was on Ally McBeal at the time and says there was much pressure to be thin but she took things to an extreme by going on a diet of 300 calories a day.
She went into treatment and recovered and a lot of good things started to happen like meeting future wife Ellen DeGeneres:
"I met Ellen when I was 168 pounds and she loved me," Portia tells the mag. "She only saw the person inside. My two biggest fears, being fat and being gay, when realized, led to my greatest joy."
"I still don't like my thighs," she adds. "But I'm not going to do anything to compromise my health or my sanity to change them. I don't want to have secrets anymore. I don't want to have a darkness that I feel that I should be ashamed of. And going forward now, without having anything to hide, the future looks pretty bright."
She has gained a lot of self-awareness since the days of starving herself: "My struggle with anorexia, coming to terms with my sexuality, I realized I had struggled with self-acceptance my whole life. To be able to get to a point where you're just happy with who you are, I think that's when you know what real peace feels like."
Video Bonus: Portia was on Nightline yesterday and it is a really good piece. I'm just in awe of her candor and of how far she's come. Nice to see her in this happy and healthy place.