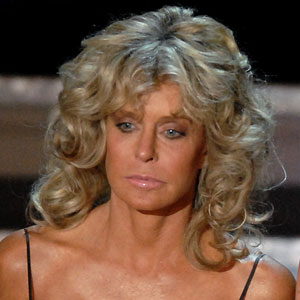 The Academy is not apologizing for its glaring omission of Farrah Fawcett in its In Memorium segment last night which I think just makes an unfortunate situation worse.
Everyone noticed. It was wrong to exclude someone with her many film credits, her level of fame, and the widespread grief her death brought.
Here's what spokeswoman Leslie Unger told Radar: "It is highly unlikely that we forgot about Farrah Fawcett but we unfortunately don't include everyone each year. There are many angles that are looked at as to who to include and unfortunately we don't include everyone."
Added Oscar producer Bruce Davis: "It is the single most troubling element of the Oscar show every year. Because more people die each year than can possibly be included in that segment. You are dropping people who the public knows. It's just not comfortable."
I posted earlier a partial list of Farrah's many feature films including Extremeties, The Apostle and Dr. T. and the Women.
People have been writing in with other omissions including Bea Arthur who had memorable roles in the films Mame (she's the one and only Vera Charles) and was wonderful in the 1970 film Lovers and Other Strangers. Her final film was 2001′s Enemies of Laughter.
If three films is not enough to warrant a mention, then why the inclusion of Michael Jackson? As far as I know, he film credits equal two: The Wiz and the concert film This is It.