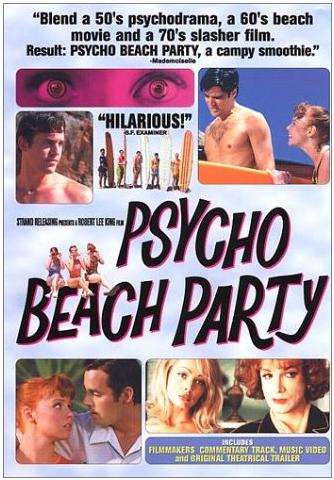 If you've never seen Psycho Beach Party then you are missing out on a very fun treat.
I love this movie and want to share some clips with you – including a coupla real gay ones!
Directed by Robert Lee King, the 2000  movie is a parody of the beach movies of the 60s and based on an off-Broadway play written by Charles Busch who also wrote the screenplay and has a starring role. The rest of the cast is pretty stellar – especially Lauren Ambrose who plays a Gidget-like character who really is more of a Sybil (Sally Field fans know what I mean by that!)
Also in the cast are Thomas Gibson, Nicholas Brendon, a pre-stardom Amy Adams, Kathleen Robertson, and Matthew Keesler. Then there are two minor characters who are my faves because they are gay but don't seem to know it. All they know is they adore each other. They are named Yo-Yo (Nick Cornish) and Provoloney (Andrew Levitas).

Here is the movie's trailer which kinda tells you all you need to know!

Above is the classic scene between Yo-yo (blond) and Provoloney (brunette) who finally seem to realize they love each other. What I love is that they are not at all freaked out about it! Below is their beach wrestling scene which unexpectedly gets kinda hot. I can't find a clip without the music but there wasn't too much dialogue anyway.
Enjoy!