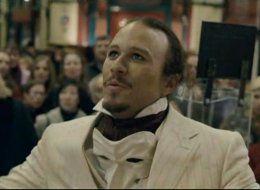 Sorry for serving breakfast so late this morning. Late night.
HEATH'S LAST PICTURE SHOW: When he unexpectedly died early last year, Heath Ledger was in the middle of making the film The Imaginarium of Doctor Parnassus directed by Terry Gilliam.
The director initially thought he'd have to abandon the movie but then came up with the idea of having a trio of other actors playing transformations of Ledger's character of Tony as he travels through a dream world. The three actors who stepped forward were the powerhouse trio of Johnny Depp, Jude Law, and Colin Farrell.
Imaginarium will be released on Christmas Day in the U.S. by which time it will have already been out for two months in the U.K. where it has a release day of October 16. Here is the just-released trailer:
GOOD FORTUNE: Remember Miss Cleo of those psychic hotline commercials? In a thick Jamaican accent, urged viewers to dial a charge-by-the-minute 900 number to have their fortunes read.
Well, today is her birthday – she turns 47.
I did her coming out story for The Advocate three years ago and the woman whose real name Youree Dell Cleomili Harris and found her nervous determination to tell her story very touching. She told me she had been inspired to come out publicly by a teenage godson.
"He and I started talking when he was concerned about coming out. He was 16. When he made the decision I told him I'd be there to support him 100%, and he embraced [coming out] wholeheartedly," she said. "It's a different vibe than when I was his age, being raised Catholic in an all-girls boarding school. But he was afraid of nothing, and I thought, I can't be a hypocrite. This boy is going to force me to put my money where my mouth is."
She was sure that coming out will be quite liberating, but she still had some trepidation.
"The reason it's scary is because in my personal experience, black cultures throughout the world have a more difficult time accepting homosexuality in their family. I have family members who will be shocked; they don't know. I have some family members who are very close to me, and they do know. But I've been afraid of the wrath, of the exile. When I came out to a number of friends in the late '80s I had a number of friends who turned their backs on me and walked away. That was really intense."
JACKMAN IS ACES: Okay, I've looked through the many photo galleries from Sunday's Teen Choice Awards and they were heavy on the likes of Chace Crawford, Zac Efron and all those guys from Twlight.
None of them hold a candle to the guy who absolutely had to be the sexiest guy in the room: Hugh Jackman.
He might be nearly twice the age of those young pups but he's like fine wine, getting better and better with age!