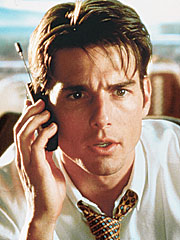 At tonight's New York premiere of his latest film Mission Impossible: Ghost Protocol, Tom Cruise looked as movie star handsome as he ever has.
I've been a huge fan of Tommy since 1983′s Risky Business and his follow-up release All the Right Moves. Yeah, I was turned off after that Matt Lauer interview when he dissed Brooke Shields, but I worked through it.
The fact is, there isn't a single Cruise flick that I haven't opened my wallet to see in the theaters. From Top Gun, The Color of Money and Rainman to Born on the Fourth of July, Cocktail and A Few Good Men. Then there was The Firm, Interview With a Vampire, Jerry Maguire and even Far and Away as well as the Mission Impossible flicks, Minority Report and The Last Samurai.
Sure, my fandom and ability to stay awake was tested a bit with Eyes Wide Shut, Lions for Lambs and Vanilla Sky but Tommy had me back in his corner with Collateral, War of the Worlds and Tropic Thunder.
I loved him in Magnolia and still think he deserved the Oscar more that year than Michael Caine. I got sucked into Valkyrie when I didn't expect to and enjoyed Knight and Day just fine even though it wasn't very special. But then again, neither was Cocktail!
(Full disclosure: I didn't like Days of Thunder much at all – especially Tommy's perm, and saw Legend with a bunch of kids from my college dorm and didn't understand it at all!)
Basically, Mr, Cruise is still a great movie star and as long as he doesn't start acting wacky in public again (no sofa jumping), he can return to his place as king of the box office – at least for the coming weekend!