Dharun Ravi, the former Rutgers student accused of spying on his roommate Tyler Clementi, was found guilty today of the hate crime of bias intimidation as well as invasion of privacy, and tampering with evidence.
Clementi committed suicide by jumping off of the George Washington Bridge in the days after he discovered that his private dorm room encounters with another man had been secretly recorded by Ravi via webcam and discussed it on Twitter with other students.
During the trial, the prosecution said that in the days before he committed suicide, Clementi had checked Ravi's Twitter page 38 times. Among the messages was this tweet from Ravi: 'Roommate asked for room til midnight. Went into Molly's room and turned on my webcam. I saw him making out with a dude. Yay.'
It took the jury of seven women and five men 12 hours to reach verdicts on 35 separate charges. Of those, he was found guilty of 24 and not guilty of 11. A majority of the not guilty verdicts applied to the man who was with Clementi when they were secretly recorded.
That man, known only as M.B., released a statement after the verdict:
'There has been so much hurt caused to too many innocent people,' he said. 'Tyler was a good person and seeing his family go through the tortures of the trial was painful. For all of my life I have been known to the world by my name. That simple luxury was taken away from me as my identity became reduced to simply, M.B. in order to protect the privacy of myself and my family.'
'When I learned of Tyler's death, it bothered me terribly that perhaps there had been something I could have done or said to him that would have changed the course of events,' he added. 'I will never have that chance nor will his family or other friends who saw him differently than Mr. Ravi did.'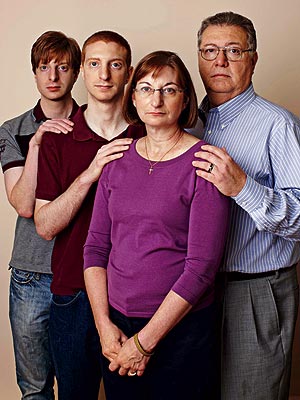 Clementi's family attended every day of the trial. His father, Joe, addressed the media today with his wife Jane and son James by his side:
:'To our college, high school and even middle-school youngsters, I would say this: You're going to meet a lot of people in your lifetime. Some of these people you may not like. But just because you don't like them, does not mean you have to work against them. When you see somebody doing something wrong, tell them, 'That's not right. Stop it."
'You can make the world a better place,' he added. 'The change you want to see in the world begins with you.'