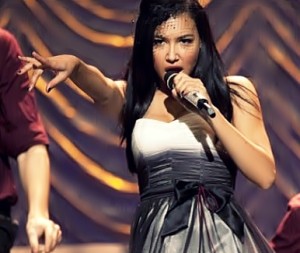 Entertainment Weekly talked exclusively with Glee co-creator/executive producer Brad Falchuk about the New York City-set finale as well as what's in store for season 3.
Here are some excerpts:
Why are Sam and Mercedes hiding their relationship?
We're gonna have to wait and discover that. They have their reasons. That was something that was born out of the prom episode. We felt the chemistry there.
It seemed like a lot of people were hoping Santana was going to come out of the closet. Was there any thought of that?
No. When we (co-creators Ryan Murphy and Ian Brennan) talked about doing that story and about her really being gay, it was a big conversation because it's a big deal. She's a major character. We knew we were going to get some blowback, frankly. I think we're all very progressive but the reality is a lot of the country isn't as progressive yet. But we wanted to take the risk because it was a group of people that weren't truly identified on the show. We were so respectful on the Kurt story and really have focused so much on that and the character and making the sure the struggle of a gay teen in Ohio was looked at. We wanted to do the same as this one. We knew it was going to take some time. We didn't wanna rush it. We didn't have the time to really tell that story. I'm not gonna just have her come out in the last scene of the episode. That's a big deal. We dedicated two episodes to Kurt coming out and then it went on. We want to give it some time so we're giving it some time and we're going to get into it next season.
Can you give any kind of tease for season 3?
If  I could, I would. Just know that we have some really great, big ideas. I am under the opinion it will be the best season.