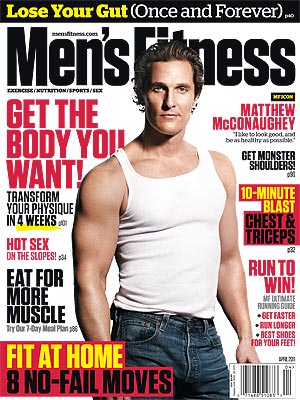 Remember when
Matthew McConaughey
at first tried to play down his hunkiness in such early films as
A Time to Kill, Lone Star, Amistad
and
Contact
?
Then he started taking his shirt off more in such hits as How to Lose a Guy in 10 Days, Sahara and Failure to Launch.
Finally, he ended up going through an entire film - Surfer Dude – wearing nothing but swim trunks!
In addition, paparazzi shots of Matthew running and hiking around LA were all over the magazines and the web and while nice to look at, he did lose a bit of his mystique in my opinion.
But now a father of two, he appears back on the right track. His upcoming film, The Lincoln Lawyer, looks promising. He plays a lawyer who conducts business from the back of his Lincoln town car while representing a high-profile client in Beverly Hills. The first-rate cast also include Marisa Tomei, Ryan Phillippe, Josh Lucas and William H. Macy.
But let us not forget that at 41. Matthew remains a hunk and that is why he is on the cover of the April issue of
Men's Fitness
.
He talks about his workout preferences and says he enjoys using heavy rocks to help maintain his rock solid bod.
"It's not as simple as it seems," he says. "You shift the weight from high above your head, in your right arm, then your left, then rest it on your shoulders, adding more weight to your back, then your legs."
As he notes, "You get a full-body workout just by finding out how many positions you can manage without having to set the weight on the ground. You also discover the stronger and weaker spots in your physique."
McConaughey doesn't claim to be perfect, but he does know what's best for himself.
"I'm not a professional athlete," he says. "But I have a job where I like to look good and be as healthy as possible."