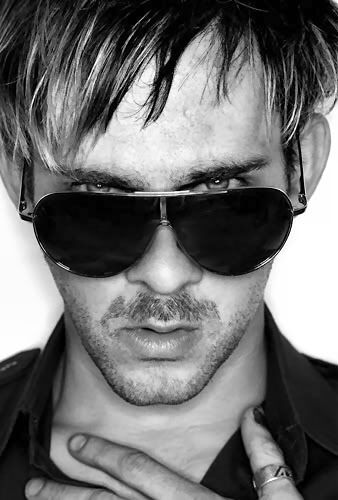 I'm such a fan of Dominic Monaghan for his talent as an actor and for who he is as a person.
Currently portraying Dr. Simon Campos on the ABC series FlashForward, the 33-year-old actor is, of course, best known for his roles on Lost and in the Lord of the Rings trilogy. He also had a role in last year's X-Men Orgins: Wolverine.
I did an interview with Dominic last year when he called me from Manchester, England. He rang at 7 a.m., an hour earlier than scheduled, so he actually woke me up! It was so nice to have the phone ring, to answer it sleepily and to have this cute guy with an accent say, "Good morning Greg, it's Dominic."
He was promoting his movie I Sell the Dead which was a hoot! He does this morning stretch that turns into a dance that I just loved and told him so when we met at the LA film Festival last summer.
Not only is he a terrific actor, Dominic is also a wonderfully engaging talk show guest who is funny, smart and best of all, authentic.
"It's the closest thing to live theater," he told me.
I was especially touched by an interview he did in May 2007 on The View when he talked about marching to the beat of his own drummer since he was a kid no matter what anyone thought -ever. He said he sometimes wears make-up, the occasional skirt and likes jewelry.
"No one ever told me when I was growing up that make-up and skirts were just for girls," he explained before adding that he was always a kid with an artistic bent who also wore a Spiderman costume to school sometimes.
"If you're confident and you own it, [the other kids] are fine with it…I've always supported the lifestyle that I will do what I please and deal with it."
I told Dominic how much his words meant to little kids who may be different and certainly to gay people who may have serious struggles navigating an overwhemingly straight world.
"It's not something i do on purpose, leading by example," he said. "I can't be someone else other than me. I never feel more at home than as I am. It always feels very icky to me in be something that doesn't feel natural. I felt that I was going come from a place of truth. If you do, when you look In the mirror you will never be mad at yourself. You can sleep at night."
"I've always been hugely supportive of the gay community," he added. "In my younger days as an actor, there was talk about if I was straight or gay and I always said it is a completely irrelevant question. i think your sexuality is something that is you and you don't have to explain. If that has been inspiring then I'm all about it. Anytime the scenario has involved gay people, I've been embraced."