One Life to Live Update: Fish and Kyle make daytime history as first gay couple shown making love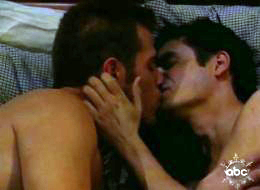 As far as I know, hell has not frozen over and the Earth has continued to turn on its axis despite the fact that two men were shown making love this week on a daytome soap opera.
The show is One Life to Live, the characters are Oliver Fish and Kyle Lewis. They were lovers in college but it's been a lot of years and a lot of water under the bridge before finding their way back into each other's hearts and, finally, each other's bed.
Actors Scott Evans (he's gay off-screen) and Brett Claywell (he's straight off-screen) have wonderful chemistry in every way and that shows in this scene which is beautiful, sexy and believable.
Bravo!