National Coming Out Day: From Sean Maher to NPH, Ellen and Rosie, a gallery of 100-plus Out Heroes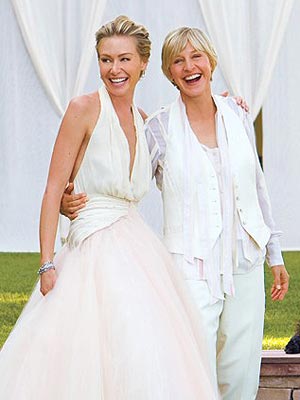 Happy National Coming Out Day to everyone!
I'm proud of each and every person who chooses to live their life out loud and I am especially gratified when someone who is famous takes that step. When someone with a high-profile lives their truth, the world notices and, hopefully, it helps to open hearts and minds.
So, I am celebrating 100 or so of those famous folks today.
No, I am not including every single well-known LGBT person because that has become too daunting a task! In fact, I was well past 70 people when I actually had to stop and think about who else to include. When I first started doing this annual gallery, it was 2006 and there was not anywhere near the number of out famous people then as there are now.
We now have Emmy winners, Oscar winners, Tony winners, Olympic Gold Medalists, sitcom stars, soap stars, daytime talk show hosts, journalists, a trio of Wimbledon champions, a trio of Glee stars, a trio of Queer as Folk alums, a pair of American Idol runner-ups, a pair of twins, recording stars, and best selling authors, among others.
Pictured, in order: Zachary Quinto, Sean Maher, Don Lemon, Elton John, Ellen DeGeneres and Portia DeRossi, Nate Berkus, Meredith Baxter, Rosie O'Donnell, Jane Lynch, Alec Mapa, Neil Patrick Harris and David Burtka, Lily Tomlin, Chely Wright, Darryl Stephens, Chaz Bono, Cynthia Nixon, Bryan Batt, Coco Peru, Rachel Maddow, Phillip Keene, Wilson Cruz, Gerald McCullouch, Melissa Etheridge, Cheyenne Jackson. Chad Allen, Ricky Martin, Geri Jewell, RuPaul, Peter Paige, Heather Matarazzo, Luke Macfarlane, Matthew Montgomery, Clementine Ford, Gavin Creel, Johnny Weir, Thom Bierdz, Sean Hays, Clay Aiken, Rex Lee, Nicholas Rodriguez, Michael Urie, Carson Kressley, Sara Gilbert, Matthew Mitcham, Chris Colfer, Cherry Jones, Darren Hayes, Jai Rodriguez, John Barrowman, Martina Navratilova, Dustin Lance Black, Rachel Evan Wood, Jonathan Slavin, Andy Cohen, Charlie David, Doug Spearman, Anna Paquin, Ian McKellen, Margaret Cho, Robert Gant, Alan Cumming, Amelie Mauresmo, Scott Evans, Gary Lane and Larry Lane, Tab Hunter, Billie Jean King, Dave Koz, Mario Cantone, Christopher Rice, Sarah Paulsen, Madison Hildebrand, Ryan Murphy, Mike Manning, Jonathan Groff, Kd Lang, John Benjamin Hickey, Thomas Roberts, Suze Orman, Jesse Tyler Ferguson, Harvey Fierstein, Nick Adams, Greg Louganis, Randy Harrison, Sandra Bernhard, Sam Harris, Bruce Vilanch, Richard Chamberlain, George Takei, Nathan Lane, Billy Bean, Rupert Everett, David Hyde Pierce, Gareth Thomas, Lance Bass, Tom Ford, Jason Stuart, Wanda Sykes, T.R. Knight, John Amaechi, Adam Lambert and Leslie Jordan.