Natalie Portman, Colin Firth, Betty White, "Modern Family" among the winners at Screen Actors Guild Awards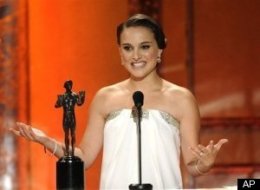 I've covered many a Screen Actors Guild Awards ceremony from the red carpet and backstage at the Shrine Auditorium. This year, thought I'd try it from home with a bowl of popcorn and a Diet Pepsi. It may not be as exciting, but it sure is more relaxing!
Still, the SAG Awards are always a more dignified affair than most awards shows with actors celebrating each other in a meaningful way.
I watched the E! Red Carpet pre-show with Giuliana Rancic and Ross Mathews and I must say, I did not miss Ryan Seacrest one bit. Ryan does many things well but red carpet interviews are not one of them in my opinion. Giuliana did a good mix of smart questions about the films and TV shows and the fashion and I appreciated the balance.
Here are some notes on the SAG red carpet: Chris Colfer excited to work with Anne Hathaway as his lesbian aunt on Glee. He was excited to receive congratulations from Ellen DeGeneres, Elton John and others after his Golden Globe win. … Jane Lynch is asked about Javier Bardem guesting on Glee as a possible love interest for Sue Sylvester with maybe his wife Penelope Cruz thrown in the mix as a kind of threesome: "I think that would be great," Jane said "I'd love to be the creamy white center to that." Jane is asked why she's spotted at The Grove all the time: The Apple store and Nordstrom shoe department. … Natalie Portman on why she called her female co-star in Black Swan Mila Kunis "Sweet Lips" in her Golden Globes speech. She explained: "It's soft to kiss a girl." … Ross Mathews, the lucky bitch, got to interview one of most handsome men in the world and he was giddy: "Heellllo Jon Hamm! It's SO nice to meet you." Hamm promised he'd email Ross once he knew the status of Mad Men renewal: "Hopefully we'll get to do more." Ross wanted Jon to play Superman but he said he's too old for the role: "I'm too old for so many things." Said Ross: "I think you could play anything you want to play." Ross then remarked that he'd have to stop flirting so Jon could make his way down the rest of the red carpet! Later, Ross seems disappointed that Helena Bonham Carter's shoes match – they did not two weeks ago at the Golden Globe Awards.My choices for hottest guys on the red carpet: Mr. Hamm, Josh Duhamel, James Franco and Taye Diggs. … Best dressed women? I'll go with Nicole Kidman, Sofia Vergara and Claire Danes.
Melissa Leo just great in the intro. The first pair of presenters was a doosy: Betty White and Alec Baldwin. After jokes about age etc., Betty suggests they "cut the bull" and get down to announcing nominees. Steve Buscemi, who I will always love for Parting Glances, wins the first award of the evening. Now he has a SAG Award to go along with Golden Globe for Boardwalk Empire. I loved when he thanked his mom and dad "for letting me be me." That's the greatest gift any parents can give to a child. Mark Ruffalo and Annette Bening next introduce a clip from their film The Kids Are All Right which was my favorite film of 2010. …  Julianna Margulies wins best actress in a TV drama series for The Good Wife! It's her second win in a row and seventh SAG win overall after a handful of trophies during her days on ER: "I'm incredibly moved. I love my job so much … just the role of a lifetime really." I love how she thanked her in-laws for producing her husband: "Life is just better with you in it Keith." Pardon me while I grab some Kleenex to dab my tears. Moments later, the cast of Boardwalk Empire wins for best dramatic ensemble, I was rooting The Good Wife which truly is a wonderful ensemble show. Next up is supporting actress in a film and it goes to the fantastic Melissa Leo for The Fighter: "I'm much better when I have my words written for me and costumes to put in me. this has been an extraordinary season for me. I'm so proud to be part of The Fighter. "Thank you helping me bring a man who I can bring home with me tonight!"
Alec Baldwin of 30 Rock beats my fave Chris Colfer in the best actor who won for the fifth straight year: "I don't know what to say, this is ridiculous." Then, wait it … Betty White wins! The 89-year-old superstar has been voted best actress in a comedy series for Hot in Cleveland beating out the likes of Edie Falco, Sofia Vergara, Jane Lynch and Tina Fey. On the long walk to the stage,  she stops to kiss 94-year-old Ernest Borgnine who  is being honored that night and I suddenly realize that together they are 183 years old! Says a stunned Betty: "I cannot believe this. They had to get the old broad up those stairs and that's not easy, this is the biggest surprise I've ever had in this business. o am so lucky at 89 to be working on the happiest set in the business, … We can't wait to go to work every day. …We fell in love the first day we worked together. … I cannot say thank you enough." … The cast of Modern Family (10 actors in all) win the SAG Award for outstanding ensemble. It is so well-deserved for what is truly an ensemble show: Ed O'Neill: speaks for the group and says: "This is the one we all wanted … we;re having a ball doing it. … The "In Memorium" part of the show, introduced by nominee Hilary Swank, is so well-done. So many great talents left us in the past year including Golden Girl Rue McClanahan, Designing Woman Dixie Carter, Lena Horne, Tony Curtis. Lynn Redgrave, Patricia Neal, Dennis Hopper, Tom Bosley, Barbara Billingsley, Gloria Stuart, Jill Clayburgh, and many more. … Back to the awards. Christian Bale wins for supporting actor in a movie for The Fighter! "Bloody hell this is heavy!" he says.  "I love acting, I love what we do. It's so bloody silly, playing dress time, other tines it's so meaningful. I appreciate  being able to do that with my life. …. I find people endlessly fascinating." Next, it's Natalie Portman's moment as she wins for Black Swan all but assuring her an Oscar win. Poor Annette Bening. … Then Colin Firth further solidifies his Oscar front runner status with a win for best actor.  In the outstanding cast award, SAG's equivalent to the best picture award, it goes to The King's Speech. Coupled with the DGA award for Tom Hooper the night before, the film has lurched ahead of The Social Network at the best picture Oscar race.