My tribute to showbiz legend Rose Marie who died today – still popular at the age of 94
Rose Marie was an absolute legend and one of the few people who could say they had been in show business for more than 90 years. She died today at the age of 94. Her passing came at a time when she was enjoying a resurgence in popularity with a Twitter following of 125,000 and the recent release of Wait For Your Laugh, an acclaimed documentary about her life. I once did a column on her when I wrote for the Los Angeles Daily News and a few days later, I received the most wonderful letter from the star.
I saw her again at a benefit in Hollywood in 2010 and we were seated at the same table. I dove in for another quick interview. I wondered if she ever saw any of the gang from The Dick Van Dyke Show.
"I talk to Dick, I talk to Carl. Morey (Amsterdam) is now gone and Richard Deacon has been gone a long time. Mary (Tyler Moore) and I never were close. We said 'hello, how are you?" Christmas gifts and things like that but we weren't palsy walsy until we did the reunion. After we did the reunion we said we wasted a lot of time."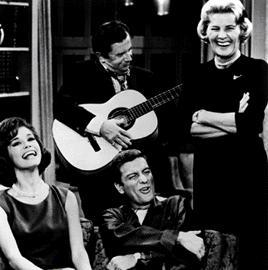 FAVORITES: What were her favorite episodes from the splendid Emmy winning series, still regarded as one of the best sitcoms in television history.
The I Am A Couple episode is her favorite episode and second favorite is Sally is a Girl "where they had to treat me like a girl."
But Sally wasn't not just one of the girls. Where Mary Tyler Moore's Laura Petrie was a wife and mother like most female characters were at that time, Sally was a professional comedy writer who did not defer to her male writing partners played by Van Dyke and Morey Amsterdam.
"I was the first women's libber. I worked on an equal basis with the guys and a lot of people have told me that if it wasn't for [Sally], they wouldn't be able to do what they're doing. And a lot of girls have become writers. It makes me very proud."
The Dick Van Dyke Show is by far her most famous role but it certainly wasn't her first or last. She broke into showbiz as Baby Rose. After the classic 1961-66 sitcom left the air, she went on to become a regular on The Doris Day Show and appeared for many years as a panelist on Hollywood Squares delivering well-timed barbs. She also enjoyed tremendous success with a touring stage show called 4 Girls 4 with Rosemary Clooney, Helen O'Connell and Margaret Whiting.
So what were Rose Marie's favorite shows on television in 2010?
"I don't watch much television," she admited. "The only thing I watch is Law & Order [Special Victims Unit]. I think Mariska Hargitay is wonderful."