Meryl Monday: Miss Streep tackles four very different roles in the acclaimed miniseries "Angels in America"
I have complained bitterly that Meryl Streep, despite turning in a stunning series of classic portrayals, has not won an Academy Award since 1983.
No statue this year for Julie & Julia or last year for Doubt and no Oscar wins for Postcards From the Edge, The Devil Wears Prada, Adaptation, One True Thing or The Bridges of Madison County.
All were Oscar worthy and  in most cases more deserving, in my opinion, than the actual winners – including Sandra Bullock this year.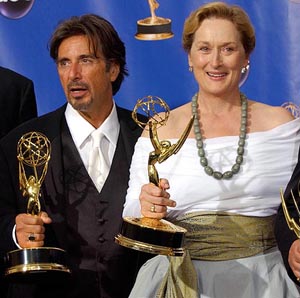 Because of Meryl's Oscar jinx, I'm so very glad that Angels In America aired on HBO as a six hour miniseries. It not only gave the great actress the opportunity to play four very different roles, she also won every award in sight: the Emmy, the Golden Globe and the SAG prize.
Her Golden Globe speech was especially memorable: "I just realized you can see completely through my dress."
Here is a video highlighting her work in the superb Angels in America: