Meryl Monday: Miss Streep smashes a freshly-whipped dessert in Jack Nicholson's face in "Heartburn"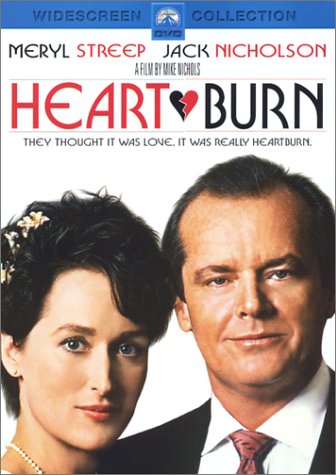 I love the final scenes in Heartburn, the 1986 gem of a film directed by Mike Nichols and starring our Meryl and Jack Nicholson.
The script was written by Nora Ephron (adapted from her novel of the same name) and was based on the breakup of her marriage to journalist Carl Bernstein of All the President's Men fame.
Meryl is Rachel, a food writer at a New York magazine who meets Washington columnist Mark at a wedding and ends up falling in love with him. They buy a house, have a daughter, and Rachel thinks they are living happily ever after until she discovers that Mark is having an affair while she is waddling around with a second pregnancy.
She leaves him but is eventually wooed back and they resume their lives which includes dinners with other Washington elite where the gossip flies fast and furious. When Rachel finds out Mark is still cheating, she publicly humiliates him at one of these dinners by smashing a pie in his face shortly after she has applied the whip cream to it.
Then she casually asks for the car keys.
We last see Rachel boarding a plane with her two kids no doubt heading back to New York where she will start life anew without the cheating hubby.