Meryl Monday: Miss Streep gets stoned with her date Steve Martin in the comedy "It's Complicated"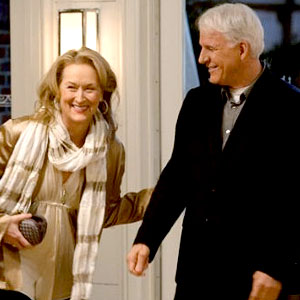 My two sisters could easily write this post because they have seen It's Complicated at least 5-6 times together and laugh as hard or harder each and every time.
This is one of their favorite parts of the movie: The characters played by Meryl Streep and Steve Martin are going to a party thrown by Meryl's daughter and Meryl's ex (Alec Baldwin) with whom she had been having an affair is going to be there with his current wife.
Meryl and Steve decide to take the edge off by getting stoned and the results are hilarious! Keep in mind that these are people in their late 50s!
This comedy, which came out in December of last year, is one of the bigger box office hits of Miss Streep's career. She was nominated for a Golden Globe Award for her performance but beat herself when she won for last year's Julie & Julia.