Meryl Monday: Jane Lynch shares how she came to be cast as Miss Streep's very tall sister in "Julie & Julia"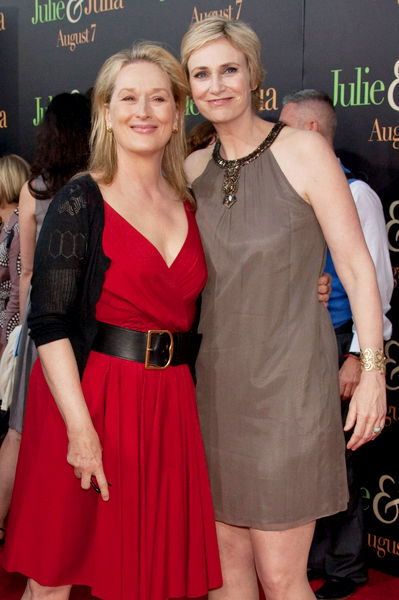 When director Nora Ephron was looking for an actress to play the sister of Julia Child (Meryl Streep) in her film Julie & Julia, she immediately thought of Jane Lynch.
Was it her great comic timing? Her stunning acting resume?
Not really.
Jane recalled how it all went down during a conversation about her career over the weekend at the Outfest Film Festival: "I met Nora Ephron right out here in the lobby (of the DGA Theatre] at the premiere of A Mighty Wind and she said, 'Maybe we'll get to work together sometime." Then we were at the same brunch together and she called me about four months later and said, 'Look, I don't know many tall actresses and I need one. You're the tallest one I know. It's a very small part, would you be willing to do it? You'll get a free trip to France and I said, 'I'd love to.'
The trip to Paris didn't quite pan out: "By the time I got there it went from being in Paris to being in Hoboken because the train station [the setting for her memorable opening scene] in Hoboken was more authentic than any train station in Paris."
So what was it like for acting goddess Jane Lynch to work with acting legend Meryl Streep?
"When I was in New York, I had 2-4 days before I started work on that movie and I had to take walks in order to calm myself," Jane recalled. "I was really nervous and I haven't been nervous about anything in a long time and I could not find that soft, cotton place that I usually go to when I'm about to embark on something large. I was really nervous about it. She's awesome, she's a great actress, very generous in the work. We had to be immediately intimate and she was just right there. t was great."