Marlo Thomas writes about gay weddings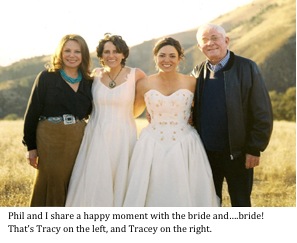 Marlo Thomas's classic sitcom character on That Girl was famously single and had a boyfriend named Donald. But in real life, she's been married for more than 30 years to Phil Donahue.
The Emmy-winning actress and producer has long been an equal rights activist and in a column for Huffington Post, she writes of a recent family wedding and tackles some questions about same-sex wedding etiquette. Here is an excerpt:
My niece, Tracy, married the love of her life, a woman also named Tracey (only hers has an "e"). At that moment, as I looked at their radiant faces, I remembered seeing Tracy, age 8, singing along to the record of Free to Be…You and Me. And I couldn't help but think, at last, Tracy is truly free.
For all of us who have long supported same-sex marriage, the depth of the justice of it all has never hit home for me as it did when I saw the these two dear, young women exchange their vows.
And everything was the same: the little kids giggling and running underfoot; the proud moms and dads wiping away a tear; the distant uncle sitting by himself, happily having one drink too many; and, as always, someone sneaking an early piece of the cake.
Now in New York, this historic ritual is being celebrated with a new and liberating joy. And while the ceremony at the heart of these weddings is no different from any other we've ever witnessed, many people have asked if there's any special etiquette that guests attending a gay wedding need to know — such as "Will I insult the couple if I ask what they're going to call themselves — like husband and husband or wife and wife?"
Here is a LINK the the entire article.