Magic Johnson and Isiah Thomas, who used to kiss on the court, are now feuding over gay rumors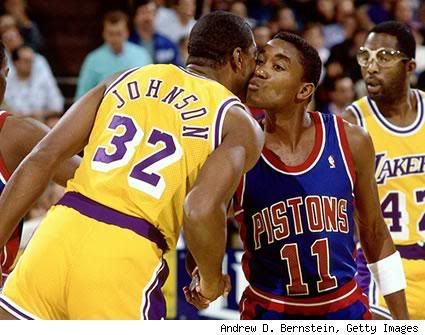 Hard to believe it's been 18 years since the shocking announcement that Magic Johnson was HIV-positive.
I remember standing around the TV in the newsroom in stunned silence as we watched Magic's press conference and feeling just sick that he was quitting basketball while still at the peak of his powers and also feeling that it would just be a matter of time before he would be dead.
And, like many others, I thought Magic must have been bisexual or gay.
Apparently, so did his friend and rival Isaiah Thomas who Magic used to share a kiss on the cheek with whenever their respective teams – the Los Angeles Lakers and the Detroit Pistons – faced each other.
In the new book When the Game was Ours which -  Johnson co-wrote with fellow Hall of Famer  Larry Bird -  Magic states that he was told Thomas spread rumors he was gay after after his 1991 announcement he was HIV-positive.
"Isiah kept questioning people about it," Magic writes. "I couldn't believe that. The one guy I thought I could count on had all these doubts. It was like he kicked me in the stomach."
Thomas has responded to Magic's claims telling Sports Ilustrated this week: "I'm really hurt, and I really feel taken advantage of for all these years," said Thomas, the Hall of Fame point guard and former NBA coach and executive, most recently with the New York Knicks. "I'm totally blindsided by this. Every time that I've seen Magic, he has been friendly with me. … I wish he would have had the courage to say this stuff to me face to face, as opposed to writing it in some damn book to sell and he can make money off it."
The book's main source for this allegation is Magic's longtime agent, Lon Rosen, who says Thomas told him in 1991, "I keep hearing Magic is gay. …  I don't know what he's doing when he's out there in L.A."
Thomas denies that conversation and said he felt too much sympathy for Magic to be spreading rumors about him.
"I felt awful for him," he said.