Lunch w/Greg: Chris Colfer's out on TV but not real life? My favorite gays at Emery Awards; Safin bashes Agassi, retires
Hello and happy Wednesday.
Sorry for the slow trickle of fresh posts this morning, your faithful blogger is a little under the weather.
So let's start out with an item about Glee star Chris Colfer.
The debate over whether or not an actor is gay and whether or not he should come out is something I hope we won't be having for much longer. Hopefully, more will continue to come out and pave the way for the younger generation and their more reluctant fellow actors.
But until then, we have situations like the one last month involving White Collar star Matt Bomer and now there is discussion over whether or not Colfer, who plays an out gay teen on Glee, is gay and was out for a time but now sort of back in.
In an interview with USA Today this week, Colfer says he doesn't want to discuss his sexuality: 'I try to keep up a mystery. As much as I give away of my personal life, the less people will believe me as other characters. I try to be private about it. It is what it is,' Colfer says with a shrug.
The Advocate reports that Chris talked to them about his high school experiences, including not being out in high school because "people are killed in my hometown for that."
When I interviewed Chris at the TV Critics Association's Summer Press Tour, he seemed a bit vague about his sexuality. I did not come straight out and ask him if he was gay but tried to lead him there a few times with my questions and he didn't bite. Here is a LINK to that interview.
He's a talented kid, very bright and funny, and hopefully it will all be sorted out in a way in which he is comfortable.
OUT AND PROUD: Two famous guys who make us all extremely proud are One Life to Live star Nicolas Rodriguez and Oscar winning screenwriter Dustin Lance Black.
These two dreamboats were among the famous faces at this week's Emery Awards in New York City on Wednesday night.
The awards honor individuals and corporations that exemplify The Hetrick-Martin Institute's mission of providing a safe and supportive environment for all young people – regardless of their sexual orientation or identity – as well as those who have demonstrated outstanding leadership within the LGBTQ community.
Others in attendance were activist Cleve Jones, BD Wong, Cheyenne Jackson, Lance Bass, musician Caroline Murphy and actress Heather Matarazzo, Victor Garber, and Judy Gold, among others,
SAFIN CALLS IT A CAREER: Russian tennis star Marat Safin is such a tall drink of water and was always a big attraction on the practice courts of tournaments where he would fine-tune his game shirtless!
Marat has had some spectacular highs in his career including being ranked number one spot for stretches of 2000 and 2001. He burst onto the scene at the 1998 French Open beating Andre Agassi and Gustavo Kuerten. Two years later, he won the US Open when he blew Pete Sampras off the court in straight sets. Then in 2005, he endged Roger Federer in a five-set semifinals thriller at the Australian Open then beat Lleyton Hewitt for the title.
He also was a semifinalist at Wimbledon last year and was runner up at the Australian Open in 2002 and 2004. But that's about it for the highlights. Safin was an extremely talented player who most of the time failed to live up to his potential. He retired from the pro tour on Wednesday ranked out of the top 50.
Safin's last match was a narrow 6-4 5-7 6-4 loss to U.S. Open champion Juan Martin del Porto at the Paris Masters.
"Now I have no schedule, no practices, no nothing," he said after the match. "I belong to myself. Tomorrow I'll wake up and see what I want to do."
The day before his final match, Safin had some harsh words for a player who did get every ounce out of his potential: Andre Agassi.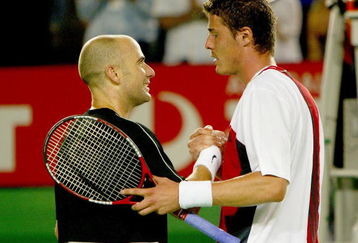 Agassi discloses in his new memoir that he used crystal meth for the better part of 1997 and when he tested positive for the drug, he lied and said it was accidentally ingested.
Safin questions Agassi's motives for revealing the story now.
"He feels guilty? So let him just give back his titles, money, his grand slams!" Safin told the French sports daily L'Equipe. "If he is so fair play, he should go all the way. You know, ATP have a bank account, he can refund if he wants to."
"I won't write my biography. I do not need any money," Safin added. "The question is: why did he do it? What's done is done. He hopes to sell more books. But he is completely stupid! I do not defend the ATP (Association of Tennis Professionals) but what he said put them in a bad position. ATP allowed him to win a lot of tournaments, to make a lot of money. They kept his secret so why be so cruel with them? There are times you need to be able to shut up."
Asked if he could emulate Agassi by coming up with a book of revelations, Safin said: "I'm not writing a book, no chance. All my memories, all my secrets will stay with me."
It's ironic Safin, a known flake and head case, would be so critical of Agassi who once he put the srug use behind him, went on to win five more grand slam titles, regain the number one ranking and become one of the great sportsman of the game.