Lunch Break Video: Elizabeth Taylor and Debbie Reynolds spoof Eddie Fisher in "These Old Broads"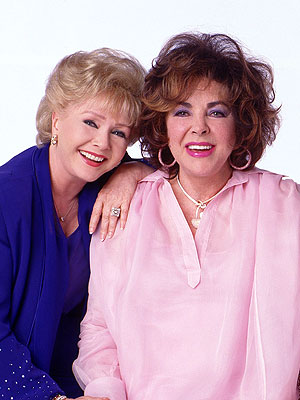 Even though they were players in a Hollywood scandal that was unprecedented at the time, Elizabeth Taylor and Debbie Reynolds were friends in the end.
Both were once married to singer Eddie Fisher who famously left Debbie and their two children (including actress-author Carrie Fisher) in 1958 to be with Taylor after her third husband and Fisher's best friend Mike Todd was killed in a plane crash.
It was a huge scandal – the Brad-Jennifer-Angelina of its day only bigger because there were children involved and Taylor and Reynolds had been close friends.
They had reconciled back in the 60s after Taylor left Fisher for Richard Burton but a true friendship seemed to be rekindled when they teamed up to star in the 2001 TV film These Old Broads written by Carrie Fisher who wrote this touching and funny scene for the two women.
Ehey talk about the ex-husband they have in common: "Freddie Hunter."
In the film, Miss Taylor's Hollywood agent character apologizes to Reynolds, who plays an actress, for stealing her husband all those years ago. She explained in an obvious dig at Fisher: "I married Freddy because I was in a blackout! What's your excuse?"
Debbie says: "Well, he gave me a red convertible and because my mother told me to! She thought he was Italian."