Lunch Break Video: A tribute to former Monkee Davy Jones who died today at the age of 66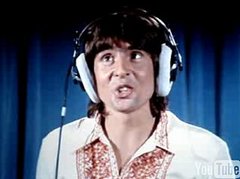 So very sad to report that Davy Jones died earlier today at the age of 66, apparently of a heart attack.
He was featured on Greg In Hollywood last summer as a Morning Man Classic.
He was a member of The Monkees from 1965-71. The pop-rock group was formed expressly for a TV show of the same name and Jones sang lead on the band's big hits Daydream Believer and I Wanna Be Free.
After the TV series went off the air, the group disbanded. Jones continued to perform solo and later joining with fellow-Monkee Micky Dolenz and songwriters Tommy Boyce and Bobby Hart as a short-lived group called Dolenz, Jones, Boyce & Hart. He has also toured throughout the years with other members as various incarnations of the Monkees.
Before The Monkees were created, Davy was already a stage star. He played the Artful Dodger in the West End production of Oliver! The show then moved to Broadway and he was nominated for a Tony Award.
Below is a memorable scene from when Davy guest-starred on an episode of The Brady Bunch and was paid a visit in the recording studio by the president of The Davy Jones Fan Club: Marcia Brady!