Los Angeles Film Festival recap: Movies I really liked and a list of the award winning films
This is the first year that I've really been able to enjoy the Los Angeles Film Festival and it was really was a tremendous event. The movies were well-attended, the audiences filled with film lovers and filmmakers and actors in attendance to talk about their movies.
I managed to see eight movies and one of my favorites,
Wah Do Dem (What They Do)
, won
the

Target Filmmaker Award

for the finest narrative film and was directed by
Sam Fleischner

and

Ben Chace.
This movie is a gem and its success really lies on the appealing performance of leading man Sean Bones who is just a breath of fresh air – so natural.  He's also a musician (see his MySpace page) and I am now a huge fan.
Bones plays Max, a guy whose girlfriend Willow (played by singer Norah Jones) dumps him days before their departure on a Caribbean cruise. Unable to find a friend to come with him to experience the all-you-can-eat-buffet crowd, he goes it alone. The scenes on the ship are hilarious and were filmed by a small crew which helps to keep things real in this low-budget flick. Then the action moves to Jamaica and Max has a series of mishaps that make him slow down and learn from those around him.
Wonderful film and a deserving winner.

Here are some of my otber faves from the festival: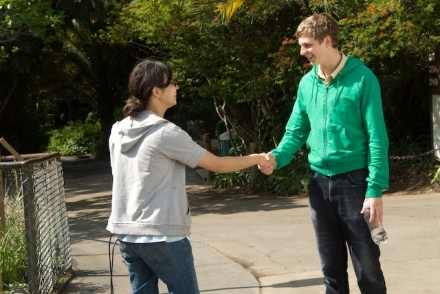 *** Paper Heart is a delicious comedy disguised a documentary. Charlyne Yi embarks on a quest across America to make a documentary about the one subject she doesn't fully understand: Love.
Helping her along the way is her boyfriend Michael Cera in this combination of fantasy and reality. Yi is so wonderful to watch – her expressions are priceless. She looks constantly astonished. The way she wanders around interviewing and reacting to various people s they talk about love is hilarious.
And it is easy to see how Yi and Cera are a real-life couple with their wonderful chemistry. They are so sweet together.
***
Humpday
is one heck of a bromance from
writer/director Lynn Shelton and is
one of the more buzz-about movies at the festival. It's about two old friends – both straight – get drunk and stoned at a party and agree to make a gay porno together and enter it in a amateur competition. For vagab0nd Andrew, it's just a lark but for the married Ben who is trying to start a family with his wife (
Alycia Delmore
), there is much more at stake.
It's apparently not about them having the hots for each other
. For Ben
(Mark Duplass
),
it's one last hurrah before he puts on father square pants for good, while Andrew (
Joshua Leonard
) 
simply needs to follow through with something for once in his life.
The performances are funny and touching and the leads really do seem like old friends even though I don't quite buy why Ben feels compelled to make the movie when he's apparently happily married to who seems like a terrific woman.

*** Weather Girl has the most potential to be a commercial hit and I do hope it gets widely seen.
The terrific Tricia O'Kelley stars as Sylvia Miller, a "sassy weather girl" in Seattle who discovers her anchorman boyfriend (Mark Harmon) is cheating on her with an anchorwomen. She gets revenge by confronting them on live TV. It leaves her without a job so she moves in with her brother and rebuilds her life.
O'Kelley is just terrific and shows that she can carry a movie. She is a regular on CBS' New Adventures of Old Christine which isn't near enough of a showcase for her gifts. The rest of the cast is top-notch: Patrick J. Adams, Ryan Devlin and the always awesome Jane Lynch.
*** I interviewed Dominic Monaghan about I Sell the Dead earlier this year so it was great to be able to actually see the movie last week and to be able to chat with Dominic after the screening.
A movie about grave robbers, what a hoot!
Monaghan plays Willie Grimes who is facing a death sentence and on the eve of his execution, he recounts his life of crime in this horror comedy romp set in the 18th century. The film also stars Ron Perlman and Larry Fessenden.
While Fessenden is the comic center, I've never seen Monaghan so funny on screen. His reaction to various vampires is funny as heck and there is this one quick little moment where he is stretching after he wakes up for a nap that made me laugh out loud. Dominic told me iot ewas his own adlib and the director loved it so much he kept it in.
"I really enjoyed reading the script," the actor told me during our earlier interview. "I read quite a lot of scripts and it's very infrequent that I read one that I am immediately intrigued by with a unique voice and interesting character."
The film, according to Dominic's description, fits into several categories: "It's horror,, a comedy in some ways, a period drama and a love story, It's a bit of a romp and a bit of a caper. If you just sit down and come with a good attitude, you will be quite charmed by the film."
Charmed we were.
***
Passenger Side
, a movie about two brothers on road trip  around SoCal was a wonderful surprise.  Writer-director
Matthew Bissonnette
had the good sense to cast his real-life brother
Joel Bissonnette
in one of the lead roles opposite
Adam Scott
who is currently on the series
Party Down.
The sibling rivalry and verbal one-upmanship during a day in the car together is both funny and touching as their brotherly issues are played out. Scott plays Michael who agrees to drive recovering addict brother Tobey (Bissonnette) around on some mysterious errands which makes Michael doubt his quirky brother's sobriety.
***
October Country
is the only documentary I took in at the festival and it was a well-done look by
Donel Mosher
at a year in the life of his troubled but loving family.
During that year in their
small town in the Mohawk Valley in upstate New York
, there's an unplanned pregnancy, a custody battle, and a bad relationship that stirs up and reinforces long-ingrained patterns of the past.
The film begins at Halloween and ends on the next Halloween and what's really cool about that is that Mosher's aunt is a witch!
AWARDS WINNERS:

Audience Award for Best Narrative Feature: The Stoning of Soraya M.
Audience Award for Best Documentary Feature: Soul Power,
Audience Award for Best International Feature: Norvind's Born Without (Nacido Sin)
Outstanding Performance in the Narrative Competition: Shayne Topp in Dear Lemon Lima.
Best Narrative Short Film: Antonio Mendez Esparza's Time and Again.
Best Documentary Short Film: Anna Gaskell's Replayground.
Best Animated Short Film: Jérémy Clapin's Skhizein
The Audience Award for Best Short Film: Instead of Abracadabra.