Lesley Goldberg's Girl Talk! Our columnist previews Emmy categories featuring some lovely ladies
By Lesley Goldberg, columnist
Welcome to Girl Talk! So now that we're getting to know each other a little better (see last week's column) you know that I'm a TV junkie, which makes this weekend's 62nd annual Emmy Awards pretty much a holiday for me.
I've been slaving away for the past few weeks copy editing The Hollywood Reporter's big Emmy issue (on stands today!) and now that the hard work is over, I'm starting to get really excited about the actual awards being handed out, especially since THR has been kind enough to send me to be among its red carpet and backstage reporting team.
Since I'm sure Greg will have a look at all the categories at some point over the weekend, I'm going to focus on Emmy's lovely ladies! So without further ado, here are a few of my picks for the Emmy pool I'm bound to join in.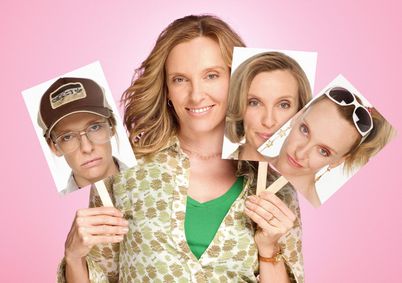 COMEDY ACTRESS
I love Glee's Lea Michele. Adore her. But as much as I love her voice and, well, everything else about her, I think this category will see a repeat of last year's winner: Toni Collette in Showtime's United States of Tara. In addition to playing a character with three multiple personalities, this year she added not one but two this season, which basically amounts to five different characters whose heads she had to get inside of. We journalists don't tend to do well with math, but this sounds like a good formula to win to me: five characters, one show. (Also nominated in the category: Michele, The New Adventures of Old Christine's Julia Louis-Dreyfus, Nurse Jackie's Edie Falco, Parks and Recreation's Amy Poehler and 30 Rock's Tina Fey.)
COMEDY SUPPORTING ACTRESS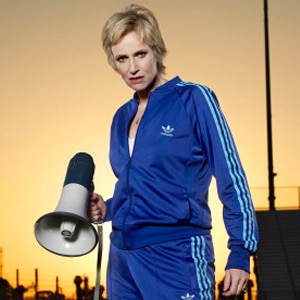 Two words: Sue Sylvester. If there's one no-brainer category this year among this year's ceremony — think Mo'Nique at the Oscars — it's that Jane Lynch will score her first Emmy victory for Glee's snarky cheerleading coach. For all that is right in the world, let her unleash a stream of wonderful Sue-inspired one-liners. Or accept the statuette in a track suit. (Also nominated in the category are Modern Family's Julie Bowen and Sofia Vergara, Saturday Night Live's Kristen Wiig, 30 Rock's Jane Krakowski and Two and a Half Men's Holland Taylor.)
DRAMA ACTRESS
It seems like 99.9 percent of the critics out there are calling this one for The Good Wife's Julianna Margulies (she did win the Golden Globe and SAG Award for the role already), but I'm going with clear eyes, full heart and hopefully I can't lose on this one and opting for a big shocker:
Connie Britton of Friday Night Lights. Season 4 — which bowed this week on DVD and is now sitting happily on my coffee table — really is the Tami Taylor show. The season's abortion story line was played out extremely well and she continues to be the heart and soul that makes this the best drama on TV. (The category also features Damages' Glenn Close, Law & Order: SVU's Mariska Hargitay and Mad Men's January Jones.)
DRAMA SUPPORTING ACTRESS
Honestly, I haven't a clue. I don't watch Mad Men, Burn Notice, Damages or The Good Wife. But from everything I've heard about The Good Wife from the lesbian community, Archie Panjabi is incredible. (And yes, it's on my list of shows to catch up on as soon as baseball season is over.) If you're the betting type, however, you might want to opt for Elisabeth Moss. From the season of Mad Men I did see, she was the one who most impressed me. (Other nominees include Burn Notice's Sharon Gless, Damages' Rose Byrne, The Good Wife's Christine Baranski and Mad Men's Christina Hendricks.)
COMEDY SERIES
I honestly feel like any of the six nominated shows could really win in this category, but it seems like a two-show race: Glee vs. Modern Family. Will the newbies split the votes and allow 30 Rock to walk off with another Emmy? Who knows, but my pick … Glee. It's the lesser of the two in terms of script but it's the bigger of the two in what it has accomplished: rejuvenating the musical on the small screen plus making the masses care about arts education again. (Also nominated: Curb Your Enthusiasm, Nurse Jackie and The Office.)
DRAMA SERIES
If it were up to me, Friday Night Lights would win the prize, but it's hard to win when the show isn't even nominated. But I digress. … This has got to be the year that Showtime breaks through with a drama series win for Season 4 of Dexter. Michael C. Hall plus John Lithgow (who has already won for his guest turn as the creepy Trinity Killer) should spell victory. (Other nominees include Breaking Bad, The Good Wife, Lost, Mad Men and True Blood.)
Check back next week for more Girl Talk when I'll run down my favorite moments from covering the Showtime party, Emmy red carpet and backstage winners' reactions. Oh, and if The Big Bang Theory's Jim Parsons doesn't win for comedy actor, you'll hear about that, too!
Want more Girl Talk? Tweet me, @Snoodit! (http://twitter.com/Snoodit)