Kim Clijsters is Australian Open champ at last!
It was such a joy to watch the well-played Australian Open women's final between Kim Clijsters and Li Na with its thrilling rallies and three sets of quality tennis.
Clijsters finally prevailed 3-6, 6-3, 6-3 to win her first Australian Open and fourth grand slam title overall. (She is a three-time US Open champion).
One of the most wonderful tennis stories in recent years has been the storybook comeback of the likable Clijsters.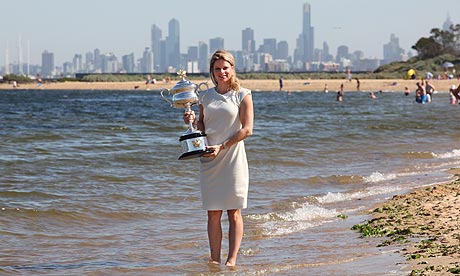 The Belgian star retired back in 2006 to get married and have a baby. She was just 23 at the time and had been number one for a time and won the 2005 US Open.
You always had the feeling that she could've won more since she was always in the hunt for the big titles losing in two French Open finals, an Australian Open final, a US Open final and scores of semifinals. She too often came up short against Serena Williams, Venus Williams and Justine Henin.
When she decided to rejoin the tennis tour in the summer of 2009, no one knew what to expect. But after winning the US Open just three tournaments into her comeback and beating both Williams sisters along the way, you knew she would be formidable.
Not only is she formidable, she is currently the best female player in the world even if she is ranked second behind Caroline Wozniacki. But as the reigning US Open, Australian Open and WTA championships winner, it's only a matter of time before Clijsters returns to number one.