Joy Behar on Ricky Martin, Adam Lambert, Perez Hilton, Lady Gaga, DADT, and "The View"
It's great to have Joy Behar on television.
She is so funny, so smart, so informed, so LIBERAL! I'm a huge fan and am thrilled that she continues to be fresh and relevant on The View after 13 years and has been a smash with her new HLN show.
Joy talked to Out.com about a variety of topics. Here are some excerpts:
Out: Ricky Martin came out. Were you surprised?
Joy Behar: Shocked! Shocked! I tell you that there is gambling on these premises!
So you're saying you're shocked?
I never really gave that much thought to Ricky Martin. I always thought that he was a really pretty boy and gorgeous and sweet. I'm happy for him.
In March GLAAD honored you with the Excellence in Media Award. Why do you think you're such a celebrated figure for the LGBT community?
I don't feel that I'm a figure for anybody. I think it's great that anyone would recognize what I do. I mean, I say what I say. I tend to not give a lot of support to people who are homophobic or antisemitic or racist. I can't stand any of that. It's just my nature to detest anything like that, and it's my personality to open my mouth. So, I really don't feel like it's any extra thing that I'm doing.
Why do you think "don't ask, don't tell" is taking so long to overturn?
I think homophobia is in the society, and it's probably in the military to a large extent. A lot of people who are in charge are maybe afraid to make that step. Israel has no such policy. There are many countries in the world that don't. Maybe they were more courageous in just taking that step and hoping and believing that the soldiers were going to be able to handle it.
The View has been on the air for 13 years. How has it changed since it debuted?
We've become more hot topic-y. We do more of the hot topics, which is what people like. I think the panel now is very cohesive. We have a good group there. We have our sparks, but we also play nicely together. It's gone through many incarnations.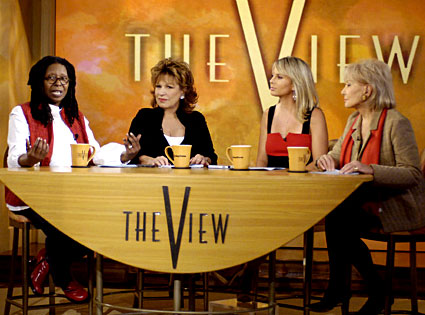 How would you describe those incarnations?
The View, to me, is like a moving cocktail party. I am a guest at the party and different people come and leave and we're just sitting there drinking, and Barbara [Walters] and I are the two drinking the longest. That's what it feels like. Rosie O'Donnell joined the party for a while. Star Jones was there drinking with us and now Whoopi [Goldberg] is there with Sherri [Shepherd] and Elisabeth. It just keeps moving.
What's the first thing that comes to mind when you hear the following names:
Adam Lambert?
I think he is guy who is more famous because he lost and good for him.
Lady Gaga?
A nice Italian girl gone berserk. Talented.
Perez Hilton?
Well, he serves a purpose.
Which is?
People like to hear stuff like that. I think he can be mean sometimes, but whatever. I understand it because we do a lot of gossip on my show too, but as they said in a play I recently saw, "What is gossip but just a more entertaining version of news?"