Joan Rivers says gays are scarce in Occupy Wall Street demonstrations because they are too vain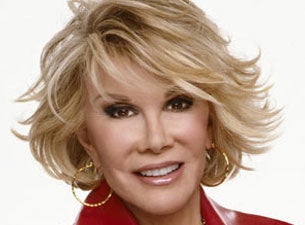 Leave it Joan Rivers to offend just about everyone – even her beloved gays.
The 78-year-old comedienne was quoted by New York Magazine as saying there are no gays participating in the Occupy Wall Street protests in Zuccotti Park because there is no place for them to change!
"Gay men have better bodies, on the whole. That's number one, and number two: They care more about what they look like. Very seldom will you find a gay schlep. Am I right? Very few homeless." She continued: "This is why there are no gay protestors in Zuccotti Park. Because there's no place to change, and no closets."
So she is joking, right? This is such stereotyping!
Miss Rivers had more to say about the Occupy Wall Street protesters in general: "I think Occupy Wall Street was terrific the first week, and it has now turned into a very happy druggy party. I suggest they all get jobs and go back to work. What was an amazing and wonderful thing, I now find just ridiculous. Everyone's on drugs and everybody's singing, and they now have a DVD out, and now they want to do a reality show."