Jim Courier chosen to captain US Davis Cup team!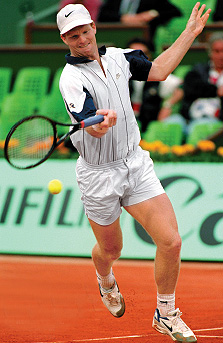 Jim Courier played his pro tennis career at the same time as all-time greats Pete Sampras and Andre Agassi.
While he may not have won as many big titles as his two fellow Americans, he did have many high points. Jim managed to reach the number one ranking for several stretches in the early 90s (58 weeks total), he won the French Open twice, the Australian Open twice and made it to the final of Wimbledon in 1993 and of the US Open in 1991.
(One area where Courier as far superior to Agassi ad Sampras was in the legs department! Courier has the best legs of all players on tour except for Sweden's Stefan Edberg whose legs were legendary).
Jim was also a member of the winning U.S. Davis Cup teams in 1992 and 1995 and this week, he was named Captain of the team, replacing longtime captain Patrick McEnroe who is stepping down after more than a decade.
"I've always known, once I got a taste of playing Davis Cup, if I were given an opportunity to be the captain, I would certainly want to take it," Courier said Wednesday during a news conference in New York.
Agassi called Courier an "inspired choice" as captain.
"Jim has the experience, integrity and focus needed to bring the U.S. Davis Cup to new heights," Agassi said in a statement Wednesday. "I know first hand that a man with Jim's credentials as a warrior and a champion will bring out the best in our players and our fans."
Jim has either won or played in the championship round of al of the sport's major championships. He was one set away from winning his third straight French Open title in 1993 when he ran out of gas in the fifth set against Sergi Bruguera. He made the Wimbledon final the next month but lost to Sampras. He never won another major title or even reached another slam final.
The 40-year-old Courier retired from the professional tour in 2000 and was elected to the International Tennis Hall of Fame in 2005. He coached the U.S. team under McEnroe in five series from 2001-03. He has become one of the best television commentators in the sport and I would like hear more of his insightfulness and less of John McEnroe'sendless chatter at some of the majors. Are John and Mary Carillo really the only two people who can do the job? I'm so over them!