Jake Silbermann talks about the Luke-Noah-Reid love triangle on "As the World Turns"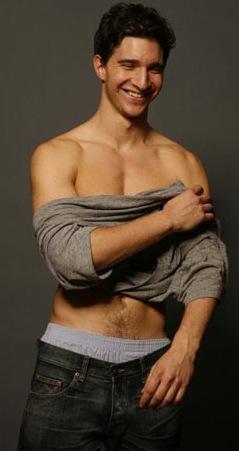 With As the World Turns literally doing its last lap (the show goes off the air at the end of summer), how cool it is to have a nice gay love triangle developing!
I don't know about you, but I just think there are not near enough gay love triangles on television and this one feels even more scintillating that Fish-Kyle-Nick on One Life to Live when that show still had gay characters.
Dr. Reid Oliver (played so well by Eric Sheffer Stevens) is a real rival for the affections of Luke Snyder (Van Hansis) whose heart for so long has belong to Noah Meyer (Jake Silbermann).
Noah began to push Luke away when he went blind but now seems to want to be close again.
"Noah was pushing Luke away, because he wanted to know for himself that he could be an independent person," Silbermann tells Soap Opera Weekly. "He felt the only way he could do that was to push him away. He didn't always handle it the best or as sensitively as he could have, but Luke didn't quite understand what he needed. As often happens, people misunderstand each other."
Silbermann said it's not going to be an easy for anyone involved: "I think people would like to see a little more smooth sailing. But you can't always get what you want."
I'd just like to see smooth sailing for Luke and Reid! (Sorry Noah).