"It's Always Sunny in Philadelphia's" Rob McElhenney talks about upcoming "gay marriage" episode
It's hard to believe that the FX sitcom It's Always Sunny in Philadelphia has been on the air since 2005.
The show about a group of self-centered friends who run Paddy's Pub, a relatively unsuccessful Irish bar in South Philadelphia, has gained in popularity with each season and is currently enjoying its highest ratings ever.
I was just introduced to the show just last year when a friend suggesting creator and star Rob McElhenney as a Morning Man, an idea that I went for.
The show also stars Glenn Howerton as Dennis, Kaitlin Olson as Dee, Charlie Day as Charlie and Danny DeVito as Frank.
During a session at the TV Critics Association Summer Press Tour this week, McElhenney mentioned that the first two episodes of the new season next month would be about a "gay marriage." That piqued my interest so after the panel, I made a beeline over to my Nov. 8, 2009 Morning Man to get the skinny.
I discovered that the episodes are about a lot more than gay marriage!
"There's a character in the show that my character is enamored with and that is a transsexual named Carmen," he explained.  The conundrum that my character was always in is that he considers a straight man and he meets this unbelievably beautiful woman (played by Brittany Danke) who just happens to have a penis. So he's left in this area of not really knowing what to do. 'Should I hook up with her? Should I not?' Is it a woman because she certainly looks like a woman or is it a man?"
"So in this particular episode, she winds up getting surgery to remove the penis and now she's a full-fledged woman and winds up marrying a man," he added. "And my character decides that he is going to fight their union in court because he feels it's a gay marriage but really, just like it always is with our characters, Paul doesn't really care about the political ramifications of it and is just jealous that she chose another guy over him."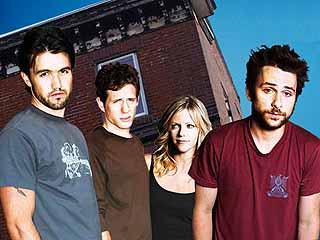 "In the episode, Dennis also gets married. And that is sort of the satirical look at marriage in this country and how difficult was for Carmen, the transgender woman, to wind up getting married. And Frank and Charlie end up getting a domestic partnership to get health benefits and it's a very difficult road that they're going down. Dennis decides on a whim to get married and he gets married within 35 seconds of deciding it and we thought it was just an interesting, satirical look at the way our system is in this particular state but also in this country. Ultimately Dennis wins up realizing it's a mistake and wants to get divorced and that is not nearly as easy as getting married."
The show never makes an attempt to be politically correct which gives them the opportunity and freedom to tackle just about any subject: "It was important to us to make an episode of television that you are never going to see anywhere else and it was just something I had never seen and I feel like it's a part of the national conversation," Rob said.
"I certainly have a very strong political position when it comes to that issue however, I don't think it's our responsibility to dictate to other people what our position is and that we just try to present both sides of the argument and that there are hycoprocies that lie on both sides on the argument and then bring in a third element which is transgender as opposed to gay or straight and it makes for an interesting conversation."
Rob's family background played a big role in shaping his personal views: "I happen to be pro gay marriage. I was raised partly by two gay mothers who have a domestic partnership in New Jersey. It's not really the type of show that lends itself  to making political statements besides this is something that we should be talking about, that on both sides of the issue are human beings and that the less we treat each other as human beings, the harder it is going to be to find resolution."
"Ultimately what we feel very strongly about is opening up the conversation," he concluded. "I think the only wrong side to fall on that particular issue is to not think about it, to not talk about it, to not figure it out for yourself."