Inspired by Zachary Quinto, ABC "World News Now" anchor Dan Kloeffler comes out on the air!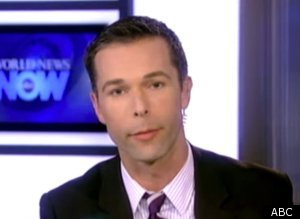 This is such a cool coming out story because it unfolded much like the way we gays sometimes casually come out to people.
Instead of looking someone straight in the eye and announcing: "I am gay," we might find a way to mention, during conversation, that we date people of same sex.
But not many of us have the opportunity to make this kind of casual comment while on international television!
That's what Dan Kloeffler, co-anchor of ABC's World News Now which airs in the wee hours, did earlier today while reading a story about actor Zachary Quinto coming out publicly over the weekend.
"I'm thinking I can lose my distraction about dating actors," he said to his co-anchor Yunji de Nies before moving on.
He has since elaborated on the
ABC News website
writing: 
Because WNN is a show where you can offer some personality, I had a little fun with the story saying that I would drop my rule against dating actors. I've never shared that I'm gay on-air, even though I've been out to my family, friends and co-workers for years. In fact, an old boyfriend – now best friend – has always given me a hard time about not doing so. But for the same reason that Zach decided to come out, I too, no longer wanted to hide this part of my life.
There have been too many tragic endings and too many cases of bullying because of intolerance. As a kid I wanted someone to look up to, someone that could relate to the feelings I was having. Most of all, I wanted to know that it would get better.
And it did.
As a journalist, I don't want to be the story, but as a gay man I don't want to stand silent if I can offer some inspiration or encouragement to kids that might be struggling with who they are.
Major kudos for Kloeffer who joins such openly gay news anchors as Thomas Roberts, Rachel Maddow and ABC News correspondent Miguel Marquez.
Dan was formerly an anchor on MSNBC where he anchored overnight MSNBC Now news updates as well as First Look and on NBC's Early Today.
ABC's World News Now is also where Anderson Cooper got his start. Obviously, Anderson never made this kind of disclosure while there – or anywhere else. The overnight show has also featured a series of other very attractive male anchors including Ryan Owens and Jeremy Hubbard.