"I Love Lucy" premiered 70 years ago today! Happy anniversary to the funniest sitcom of all time!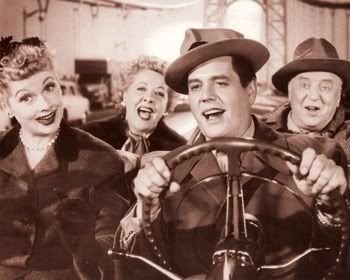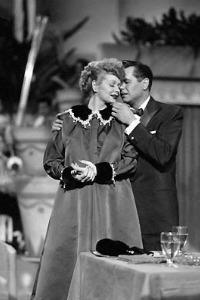 I don't remember every single detail of the 179 half-hour episodes of I Love Lucy and 13 hour-long specials that ran over nine seasons. Do you? So many of us know the lines and the nuances from those episodes like "Luuucccyyy, I'm hoooome" to "Lucy, you've got some splainin to do."
It was on Oct. 15, 1951 that I Love Lucy premiered on CBS with the episode "The Girls Want to Go to the Nightclub" and that was followed by all kinds of antics and adventures that included stealing John Wayne's footprints from Grauman's Chinese Theater, impersonating martians on the roof of the Empire State Building, Lucy lighting her putty nose on fire in front of William Holden, Lucy and Ethel trying to eat 25 pounds of cheese on an airplane, Ricky and Lucy celebrating their anniversary in the living room closet, and the show's gayest moment: Designer Don Loper playing himself during a fashion show in which Lucy has to fight a painful sunburn to appear.
Love, love, love them all. God bless the late Lucille Ball, Desi Arnaz, Vivian Vance, William Frawley and their great company of guest stars.
Here are some I Love Lucy facts:
** "I Love Lucy" was one of the first TV shows shot on 35mm film. The film–unlike kinescope, which deteriorates very quickly–endured, making "I Love Lucy" reruns possible right up to the present.
** "I Love Lucy" continues to be enjoyed in more than 77 countries. The show is dubbed in 22 different languages!
**  "I Love Lucy" was filmed on a converted movie sound stage. A live audience of 300 attended each taping. The audience sat on grandstand bleachers erected by a scaffolding company.
**  When Lucille Ball became pregnant in 1952, the unprecedented decision was made to write the pregnancy into the show. It was decided that, no matter what the actual sex of the Arnaz baby, the Ricardo baby would be a boy. When the Ricardo's TV son Ricky was born, more people watched that episode than watched the coronation of Queen Elizabeth II. During Lucy's TV pregnancy, the word "pregnancy" was never used. Instead, she was "expecting" (or as Ricky said, "specting").
** Ethel actually had three middle names during the history of the show (Louise, Mae, and Roberta)
** The "I Love Lucy" theme song lyrics were sung only once–by Ricky, in the "Lucy's Last Birthday" episode.
** Although "I Love Lucy" opened to generally favorable reviews, not everyone was impressed. Less than a day after the first show aired, the sponsor tried to find a way to get out of the contract, but reconsidered.
** Keith Thibodeaux joined the cast of "I Love Lucy" during its final season as Little Ricky. Keith was the only Little Ricky who had speaking lines.

**  For the episode "Pioneer Women," a metal shop custom-built a pan for the eight-foot long loaf of bread that shot out of Lucy's oven.After filming "Pioneer Women," the crew cut up the eight foot loaf of rye and divided it among themselves.
** On March 1, 1953, Jack Gould of the New York Times commented that "I Love Lucy" was so successful because "It's very human–and so are we."