Happy Birthday to skating champ Rudy Galindo!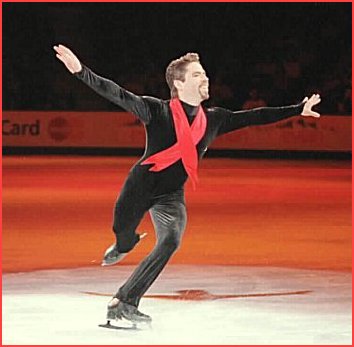 It's interesting – and frustrating – that in the 14 years since former US National Champion Rudy Galindo came out, we have not had an American ice skating star follow suit.
Not even Johnny Weir who doesn't believe in "labels."
Well, being open about his sexuality just makes Rudy even more of a hero in my book and I will give him the labels of hero and champion.
Rudy, who turns 41 today, excelled as both a singles and pairs skater. He was the junior world champion in 1987 and the US national champion in 1996. When he won that national title, he became the oldest male to win it in almost 50 years. He followed this win with a bronze medal at the 1996 World Championships.
As a pairs skater, he competed with Kristi Yamaguchi and was the 1988 World Junior Champion and the 1989 and 1990 U.S. National Champion.
Rudy had some health setbacks after retiring from competition in 1996: he was diagnosed as HIV positive and he underwent hip replacement surgery. But he continued to skate with the Tom Collins' Champions on Ice show until it closed down after the 2007 season.
Today, you can find Rudy back home in San Jose, Calif. teaching full-time at the same rink, Logitech Ice Arena, where he practiced en route to his memorable performances at the 1996 U.S. Championships.
In discussing his HIV with USA Today writer Christine Brennan in 2000, Rudy said: "I've made my mistakes, but I want to tell everyone that 'safe sex' is not an empty slogan. People always think that it can't happen to them, but it can. I didn't want to hide this illness. I didn't want to live a lie. I've always wanted to be truthful."