Happy Birthday to Portia de Rossi!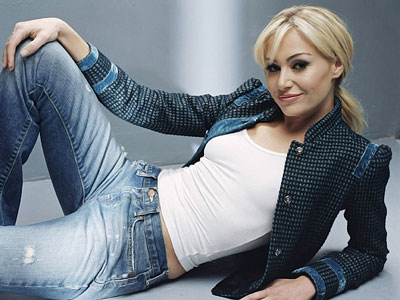 Long before she married Ellen DeGeneres and became one-half of the most famous lesbian couple in America, Portia de Rossi had achieved television stardom as a cast member on two classic television comedies: Ally McBeal and Arrested Development.
This beautiful actress, who turns 38 today, was hiding some painful secrets from the public though. She was struggling with being a closeted actress and battling a potentially deadly eating disorder. (She was at one point down to 82 pounds!)
Portia detailed those dark times in a memoir released last fall called Unbearable Lightness: A Story of Loss and Gain.
She has gained a lot of self-awareness since the days of starving herself telling People Magazine last year: "My struggle with anorexia, coming to terms with my sexuality, I realized I had struggled with self-acceptance my whole life. To be able to get to a point where you're just happy with who you are, I think that's when you know what real peace feels like."
By the time she met Ellen, the starvation days were behind her.
"I met Ellen when I was 168 pounds and she loved me," Portia said. "She only saw the person inside. My two biggest fears, being fat and being gay, when realized, led to my greatest joy."